RCCG JUNIOR ZEAL (AGE 6-8) TEACHER'S MANUAL LESSON THREE (3) SUNDAY: 19TH SEPTEMBER 2021
TOPIC: IMPORTANCE OF BLESSING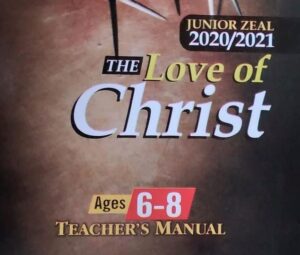 BIBLE TEXT: MARK 10:13-16
13 And they brought young children to him, that he should touch them: and his disciples rebuked those that brought them.
14 But when Jesus saw it, he was much displeased, and said unto them, Suffer the little children to come unto me, and forbid them not: for of such is the kingdom of God.
15 Verily I say unto you, whosoever shall not receive the kingdom of God as a little child, he shall not enter therein.
16 And he took them up in his arms, put his hands upon them, and blessed them.
*MEMORY VERSE*: 1 Peter 2:2-3 "2 As newborn babes, desire the sincere milk of the word, that ye may grow thereby: 3If so be ye have tasted that the Lord is gracious".
*LESSON AIM*: The children will know that true blessing is from God.
*CHILD RELATED TRUTH*: God wants you to rely on Jesus for your blessing.
*INTRODUCTION*: one day, after Jesus had been teaching people about God, some mothers started bringing their babies and little children to Jesus.
"Jesus," one of the mothers asked, "you are such a good teacher. will you please place your hand on my child's head and give her a blessing?" Jesus was very happy to bless the little children. He loved children, but the disciples saw all of the mothers and children around Jesus and they thought they were bothering him. They knew that Jesus must have been very tired from teaching all the adults, surely he wouldn't want to spend time with all of these children! so the disciples began telling the mothers and children to go away and leave Jesus alone.
*PROGRESSION OF EVENTS*: Mark 10:13-16
1. People were bringing little children to Jesus to place his hands on them.
2. Jesus's disciples tried to stop them
3. Jesus was very unhappy when he saw what the disciples were trying to do.
4. Jesus told the disciples to let the children come to Him and not stop them.
5. Jesus told them that the Kingdom of God belongs to people like children.
6. Jesus said those who do not receive the Kingdom of God like little children will not enter it.
*GOSPEL CONNECTION*:
God loves you and me and wants us to live with him in heaven someday, but because sinners cannot enter heaven, God sent his son Jesus to die on the cross so that our sins can be forgiven. Jesus died on the cross and was buried but came alive on the third day. Because of what Jesus did on the cross, you can have your sins forgiven. (1st Corinthians 15:3-4)
CLIMAX: Jesus took the little children in his arms, placing his hands on them and blessed them.
CONCLUSION: The children's innocence and sense of humility and hope were attributes that Jesus wanted his disciples to notice.
CHALLENGE: Jesus wants everyone to come to him. If you already know Jesus is Lord and saviour, he will continually bless you and want you to bring others to him for blessings when you tell your friends, neighbours, and classmates that Jesus loves them, you are spreading the blessings of God.
INVITATION: Believe in the Lord Jesus and be saved (Acts 16:31)
DAILY DEVOTION
SUNDAY: Genesis 3: 18-24
MONDAY: Genesis 4:1-7
TUESDAY: Genesis 4:8-15
WEDNESDAY: Genesis 4:16-19
THURSDAY: Genesis 4:20-26
FRIDAY: Genesis 5:1-6
SATURDAY: Genesis 5:7-15