Subscribe to Blog via Email
RCCG JUNIOR ZEAL (AGE 6-8) TEACHER'S MANUAL LESSON EIGHT (8) SUNDAY: 24TH OCTOBER 2021
TOPIC: WAYS GOD BLESSES A MAN (GOOD HEALTH)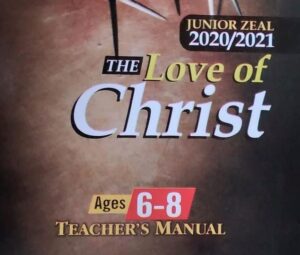 BIBLE TEXT: JOHN 4:46-53
So Jesus came again to Cana of Galilee where He had made the water wine. And there was a certain nobleman whose son was sick at Capernaum.
47 When he heard that Jesus had come out of Judea into Galilee, he went to Him and implored Him to come down and heal his son, for he was at the point of death.
48 Then Jesus said to him, "Unless you people see signs and wonders, you will by no means believe."
49 The nobleman said to Him, "Sir, come down before my child dies!"
50 Jesus said to him, "Go your way; your son lives." So the man believed the word that Jesus spoke to him, and he went his way.
51 And as he was now going down, his servants met him and told him, saying, "Your son lives!"
52 Then he inquired of them the hour when he got better. And they said to him, "Yesterday at the seventh hour the fever left him."
53 So the father knew that it was at the same hour in which Jesus said to him, "Your son lives." And he himself believed, and his whole household.
MEMORY VERSE : 3 John 1: 2 "2 Beloved, I pray that you may prosper in all things and be in health, just as your soul prospers.".
LESSON AIM : The children will have faith in God for healing.
CHILD RELATED TRUTH : Jesus is the one who gives good health.
INTRODUCTION: Children! Do you like to play? (Give room for answers). If you are not feeling fine or have an injury, will you e able to go out and play? (Let the children contribute). Maybe he would like to play outside, watch TV or go to the park. But if you are not feeling well, you cannot do any of these things. A long time ago during the time, Jesus was physically here on earth, there was this little boy who was sick and could not go to do any of these things you mentioned and the father was very worried.
PROGRESSION OF EVENTS : John 4:46-53
1. A nobleman's son was very sick.
2. This man heard about the amazing things Jesus was doing
3. The man left his home and walked a long way to find Jesus
4. when this man found him, he asked Jesus to come and heal his son
5. Jesus told him to go back home for his son was already healed
6. the noble man believed that Jesus could heal his son by speaking the word
GOSPEL CONNECTION : When sin entered the world came sickness and all kinds of diseases. Jesus could bless A man with good health because he is God the healer. Jesus willingly took 39 stripes for your sicknesses and diseases to be healed. The love Jesus has for you and I made him bleed and die on the cross for our sins to be forgiven and healing for you and I. Jesus came to the world he had created to bring life and blessings will be with sickness and death. Jesus was buried but came alive again on the third day.
7. The servants ran to tell him that his son was better
CLIMAX: The noble man son was healed the same hour Jesus pronounced the healing.
CONCLUSION: The noble man and his family believed in Jesus because of the miracle of blessing his son with good health.
THIS WEEK RCCG SUNDAY SCHOOL MANAUL
RCCG MESSAGES
RCCG APRIL 2021 HOLY COMMUNION SERVICE THEME: GOD BLESS YOU – PART 4 (BLESSED FRUITS) MINISTERING: PASTOR E.A ADEBOYE
RCCG MARCH 2021 DIVINE ENCOUNTER THEME: GOD BLESS YOU – PART 3 (I WILL LIFT UP MY EYES UNTO THE HILLS).
CHALLENGE: If you already believe in Jesus as Lord and saviour, remember he said in 3 John 2 that His wish for you is to be in good health. Remember to always thank Jesus for giving you good health and also pray for those who are sick for Jesus to heal them. Take time out this week to pray for the sick.
INVITATION: If you have never believed in Jesus as Lord and Saviour, your sin will separate you from Him. Believe in him today and be saved (Acts 16:31).
DAILY DEVOTION
SUNDAY: Genesis 10:7-18
MONDAY: Genesis 10: 19-32
TUESDAY: Genesis 11: 1-5
WEDNESDAY: Genesis 11:6-12
THURSDAY: Genesis 11: 13-20
FRIDAY: Genesis 11: 21-26
SATURDAY: Genesis 11: 27-32