Subscribe to Blog via Email
JUNIOR ZEAL (AGES: 9-12) TEACHER'S MANUAL SUNDAY 9TH OF MAY 2021
LESSON THIRTY-SIX (36)
TOPIC: WATER BAPTISM AND HOLY SPIRIT BAPTISM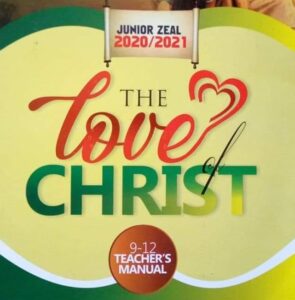 BIBLE TEXT: Matthew 3:6-16
[6]And were baptized of him in Jordan, confessing their sins.
[7]But when he saw many of the Pharisees and Sadducees come to his baptism, he said unto them, O generation of vipers, who hath warned you to flee from the wrath to come?
[8]Bring forth therefore fruits meet for repentance:
[9]And think not to say within yourselves, We have Abraham to our father: for I say unto you, that God is able of these stones to raise up children unto Abraham.
[10]And now also the axe is laid unto the root of the trees: therefore every tree which bringeth not forth good fruit is hewn down, and cast into the fire.
[11]I indeed baptize you with water unto repentance: but he that cometh after me is mightier than I, whose shoes I am not worthy to bear: he shall baptize you with the Holy Ghost, and with fire:
[12]Whose fan is in his hand, and he will throughly purge his floor, and gather his wheat into the garner; but he will burn up the chaff with unquenchable fire.
[13]Then cometh Jesus from Galilee to Jordan unto John, to be baptized of him.
[14]But John forbad him, saying, I have need to be baptized of thee, and comest thou to me?
[15]And Jesus answering said unto him, Suffer it to be so now: for thus it becometh us to fulfil all righteousness. Then he suffered him.
[16]And Jesus, when he was baptized, went up straightway out of the water: and, lo, the heavens were opened unto him, and he saw the Spirit of God descending like a dove, and lighting upon him:
Acts 2:1-8
[1]And when the day of Pentecost was fully come, they were all with one accord in one place.
[2]And suddenly there came a sound from heaven as of a rushing mighty wind, and it filled all the house where they were sitting.
[3]And there appeared unto them cloven tongues like as of fire, and it sat upon each of them.
[4]And they were all filled with the Holy Ghost, and began to speak with other tongues, as the Spirit gave them utterance.
[5]And there were dwelling at Jerusalem Jews, devout men, out of every nation under heaven.
[6]Now when this was noised abroad, the multitude came together, and were confounded, because that every man heard them speak in his own language.
[7]And they were all amazed and marvelled, saying one to another, Behold, are not all these which speak Galilaeans?
[8]And how hear we every man in our own tongue, wherein we were born?
MEMORY VERSE: Matthew 3:11 "I indeed baptize you with water unto repentance: but he that cometh after me is mightier than I, whose shoes l am not worthy to bear, he shall baptize you with the Holy Ghost and with fire"
LESSON AIM: To let the children know difference between water and Holy Spirit baptism and their importance.
CENTRAL TRUTH: Jesus baptizes with Holy Ghost and fire.
RCCG THIS WEEK
INTRODUCTION:
John the Baptist baptizes with water for repentance, but Jesus Christ baptizes with Holy Spirit and fire. In Ephesus, Apostle Paul saw some disciples and asked if they received the Holy Spirit when they believed.
He explained to them they needed to receive Holy Spirit even though they had done water baptism. He placed his hands on them, and the Holy Spirit came upon them, they spoke in tongues and prophesied – Acts 19:1-7.
STUDY GUIDE
A. WATER BAPTISM
1. Baptism means to immerse; water baptism is when a person is immersed in water as a public confession of his/her faith in Jesus Christ.
2. Water baptism is publicly identifying with the death, burial and resurrection of Jesus Christ.
3. It is a public confession of faith in Christ Jesus.
B. HOLY SPIRIT BAPTISM
1. Holy Spirit baptism is when the Holy Spirit falls on a believer, filing him/her to receive spiritual empowerment, with evidence of speaking in tongues. – Acts 1:8, Acts 2:1-8
2. The baptism of the Holy Spirit empowers us and makes us to be united with the Holy Spirit to do service for God.
C. IMPORTANCE OF HOLY SPRIT BAPTISM
1. For spiritual assignment – Acts 1:8
2. Speaking in tongues – Acts 2:4, Jude 1:20
3. Prophesying – 1 Corinthians 12:10
4. Ability to preach the gospel – Acts 2:37-41
5. To equip, build and perfect the saints – Ephesians 4:12
6. Makes us mature believers (fruit bearing) – Galatians 5:22-24
7. Gives spiritual gifts for service -1 Corinthians 12:8-10
Open Heavens Daily Devotional
guide was written by
Pastor E.A. Adeboye
, the General Overseer of the Redeemed Christian Church of God, one of the largest evangelical church in the world and also the President of Christ the Redeemer's Ministries.
The Open Heavens devotional
application is available across all mobile platforms and operating systems: iOS, Android, Blackberry, Nokia, Windows Mobile and PC.
CONCLUSION: After water baptism, you need to seek for Holy Spirit baptism
INVITATION: Before you can receive Holy Spirit baptism you must first receive Jesus Christ as Lord and Saviour.
ACTIVITY Children should ask for the baptism of the Holy Spirit.
LIFE APPLICATION: Water Baptism is openly identifying with the death and resurrection of Jesus Christ. Holy Spirit baptism is the infilling of the power of God in the life of a believer. Jesus is our perfect example. He baptised at River Jordan and the Spirit of God descended upon Him Matthew 3:13-17. Peter and other Apostles received Holy Spirit empowerment. You too need the power of God to fortified your destiny. Acts 3:41-42
DAILY DEVOTIONAL
SUNDAY – ISAIAH 13:6-11
MONDAY – ISAIAH 13:12-22
TUESDAY – ISAIAH 14:1-11
WEDNESDAY – ISAIAH 14:12-21
THURSDAY – ISAIAH 14:22-27
FRIDAY – ISAIAH 14:28-32
SATURDAY – ISAIAH 15:1-9