RCCG 2020/2021 ZEAL (AGE 13-19) TEENS TEACHER'S MANUAL SUNDAY 9TH OF MAY, 2021
LESSON THIRTY SIX (36)
TOPIC: WATER BAPTISM AND HOLY SPIRIT BAPTISM
BIBLE TEXT: Matthew 3:13-17
[13]Then cometh Jesus from Galilee to Jordan unto John, to be baptized of him.
[14]But John forbad him, saying, I have need to be baptized of thee, and comest thou to me?
[15]And Jesus answering said unto him, Suffer it to be so now: for thus it becometh us to fulfil all righteousness. Then he suffered him.
[16]And Jesus, when he was baptized, went up straightway out of the water: and, lo, the heavens were opened unto him, and he saw the Spirit of God descending like a dove, and lighting upon him:
[17]And lo a voice from heaven, saying, This is my beloved Son, in whom I am well pleased.
Acts 1:4-5
[4]And, being assembled together with them, commanded them that they should not depart from Jerusalem, but wait for the promise of the Father, which, saith he, ye have heard of me.
[5]For John truly baptized with water; but ye shall be baptized with the Holy Ghost not many days hence.
MEMORY VERSE: Matthew 3:11 "I indeed baptize you with water unto repentance: but he that cometh after me is mightier than I, whose shoes I am not worthy to bear: he shall baptize you with the Holy Ghost, and with fire:"
HYMN FOR TODAY:
Oh Lord, send the power just now
LESSON AIM: To teach the teens about water and Holy Spirit baptism
CENTRAL TRUTH: Water and Holy Spirit baptism is our competitive advantage as believers.
RCCG THIS WEEK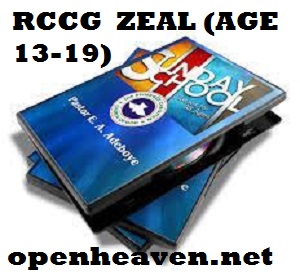 INTRODUCTION: Water baptism is the immersion of a believer in water in the name of the Father, the Son, and the Holy Spirit. it is a symbolic act whereby a new Christian identifies with Christ's death, burial, and resurrection. it is an outward personal public declaration of a person's repentance and faith in Jesus Christ.
STUDY GUIDE
Steps in water baptism and its significance:
Going down into the water signifies that our old man is dead to sin and buried by faith with Christ – Rom 6:3
Being raised out of the water signifies our resurrection with Christ. That a new man is raised by the Spirit and made alive by faith in Christ – Col 2:12
Examples include:
• Matthew 3:13-17 – Jesus was baptized with water by John the Baptist.
• Acts 10:45-48 – Peter commanded the Gentiles to be baptized.
• Acts 8:36-39 – Philip baptized the eunuch.
The baptism with the Spirit is immersion of the believer into the life and power of the Holy Spirit. When you are baptized with the Holy Spirit, you
will receive strength, power and boldness from God to accomplish your work and overcome sin in your own life. An evidence of this is the ability to speak in tongues.
Examples include:
• Acts 2:1-4 – Jesus disciples on the day of Pentecost.
• Acts 19:1-6 – Disciples at Ephesus.
• Acts 8:14-17 – The apostles which were at Jerusalem.
DISCUSSION: As a teen, what are the steps you need to take to get Water Baptism in the RCCG?
Have you been baptized with the Holy Ghost? If yes, please share your experience.
INVITATION/ APPLICATION: Yield yourself to the Holy Spirit, so that you are enabled to do God's will.
Subscribe to Blog via Email
CONCLUSION: The life that we have in Christ is that of grace, and can only be maintained by the Spirit of grace filling, overwhelming and influencing us. God's plan is that we live by the power of the Holy Spirit.
ACTIVITY:
What is God saying in the text?
How can I apply this to my life?
MY PRAYER POINT FOR THE LESSON:
Father, baptize me with the Holy Ghost today in Jesus name.