RCCG SUNDAY SCHOOL STUDENT'S MANUAL MAIDEN SPECIAL FOR YOUNG ADULTS AND YOUTHS (YAYA)
LESSON THIRTY-SIX SUNDAY 9TH MAY 2021
TOPIC: THE ESTHER GENERATION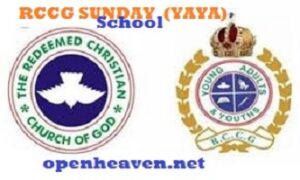 SUNDAY SCHOOL HYMN
1. O Sunday School, on the Lord's day,
O how I love Thee well,
I am happy, it makes me glad
To rejoice at Thy birth.
2. O Sunday School, on the Lord's day,
Thy friend friendship suits me well,
Both young and will sing Thy song,
We long for Sunday School.
3. O Sunday School, on the Lord's day,
Christ was Thy first teacher,
The Holy Spirit, great teacher,
Does manifest in thee.
4. O Sunday School, on the Lord's day,
This testimony is sure,
That God, the Father Almighty,
Poured His blessing on Thee
5. O Sunday School, on the Lord's day,
Though the sun be so bright,
Or if the clouds be black with rain,
I'll be in Sunday School.
6. O Sunday School, on the Lord's day,
I rejoice to see Thee,
Will thou pass over me today?
Without my being blest?
MEMORY VERSE: "I also and my maidens will fast likewise; and so will I go in unto the king, which is not according to the law: and I perish, I perish" . — ESTHER 4:16b (NKJV)
BIBLE PASSAGE: ESTHER 2:5-17
Esther:2.5
In Shushan the citadel there was a certain Jew whose name [was] Mordecai the son of Jair, the son of Shimei, the son of Kish, a Benjamite.
Esther:2.6
[Kish] had been carried away from Jerusalem with the captives who had been captured with Jeconiah king of Judah, whom Nebuchadnezzar the king of Babylon had carried away.
Esther:2.7
And [Mordecai] had brought up Hadassah, that [is,] Esther, his uncle's daughter, for she had neither father nor mother. The young woman [was] lovely and beautiful. When her father and mother died, Mordecai took her as his own daughter.
Esther:2.8
So it was, when the king's command and decree were heard, and when many young women were gathered at Shushan the citadel, [under] the custody of Hegai, that Esther also was taken to the king's palace, into the care of Hegai the custodian of the women.
Esther:2.9
Now the young woman pleased him, and she obtained his favor; so he readily gave beauty preparations to her, besides her allowance. Then seven choice maidservants were provided for her from the king's palace, and he moved her and her maidservants to the best [place] in the house of the women.
Esther:2.10
Esther had not revealed her people or family, for Mordecai had charged her not to reveal [it.] Esther:2.11
And every day Mordecai paced in front of the court of the women's quarters, to learn of Esther's welfare and what was happening to her.
Esther:2.12
Each young woman's turn came to go in to King Ahasuerus after she had completed twelve months' preparation, according to the regulations for the women, for thus were the days of their preparation apportioned: six months with oil of myrrh, and six months with perfumes and preparations for beautifying women.
Esther:2.13
Thus [prepared, each] young woman went to the king, and she was given whatever she desired to take with her from the women's quarters to the king's palace.
Esther:2.14
In the evening she went, and in the morning she returned to the second house of the women, to the custody of Shaashgaz, the king's eunuch who kept the concubines. She would not go in to the king again unless the king delighted in her and called for her by name.
Esther:2.15
Now when the turn came for Esther the daughter of Abihail the uncle of Mordecai, who had taken her as his daughter, to go in to the king, she requested nothing but what Hegai the king's eunuch, the custodian of the women, advised. And Esther obtained favor in the sight of all who saw her.
Esther:2.16
So Esther was taken to King Ahasuerus, into his royal palace, in the tenth month, which [is] the month of Tebeth, in the seventh year of his reign.
Esther:2.17
The king loved Esther more than all the [other] women, and she obtained grace and favor in his sight more than all the virgins; so he set the royal crown upon her head and made her queen instead of Vashti.
RCCG THIS WEEK
Subscribe to Blog via Email
INTRODUCTION
Esther, the main character in the book of Esther, was an orphan raised by her uncle, Mordecai (Esther 2:5-7). Her Hebrew name is Hadassah which means 'myrlte' – Rosy flower (Esther 2:7). Esther's story and life is a case of humility, obedience, divine substitution, great favour, sacrifice and divine intervention, such that youths should learn from.
LESSON OUTLINE
1. THE SPIRIT OF ESTHER
2. LESSONS FROM HER LIFE
THE SPIRIT OF ESTHER
Esther became the queen of Persia in B.C 478, even a stranger in the land of captivity (Esther 2:17). She was a woman of faith and courage. This is evident in the way she handled the news of the death sentence resulting from Haman's fury (Esther 4:16). She portrayed a selfless and sacrificial character that stood in the gap for her helpless kinsmen. She was willing to give her life in an attempt to save the Jews (Esther 4:16b). She was not driven with Zeal but rather, her faith in God gave her confidence.
Esther prayed, fasted and made the great sacrifice (Esther 5:1-4). She saved the Jews from the massacre planned by Harman (Esther 8:3-13).
LESSONS FROM HER LIFE
1. Esther was from the 'less privileged' family group in Persia (Esther 2:21). Yet, she did not write herself off. She contested for the position of a queen with everyone else, even as a foreigner. Do not look down on yourself (1Tim. 4:12; Titus 2:15). You can do all thing through the power of the Holy Spirit in you (Phillip 4:13, 2Cor. 12:9).
2. Esther became popular for being a resourceful and confident problem solver (Esther 8:3-13). Youths should not see themselves as weaklings, dependent and liabilities (Phillip 2:13, 4:13). They must be bold to face the challenges of life (Prov 28:1)
3. Esther was obedient to a godly leader. Esther obeyed Mordecai in detail. Experienced godly leaders and matured Christian mentors are needed in the journey of life (Esther 4:13-16; 1Cor. 11:1)
4. Just as Esther used the correct manner of approach to gain the attention and favour of the King, youths should also approach God or their leaders rightly to gain attention and favour (Psalm 100:4; Proverbs 24:3). God's favour is highly required for breakthrough (Esther 2:9,17).
5. When we need help, God is more than willing to help us if we ask him rightly (Isaiah 41:13, James 4:3). Faith and courage will often bring to us the things that we need (Matthew 21:22).
CONCLUSION
Regardless of your family or socio-economic background, God can make great person out of you.
QUESTIONS
1. Mention the key achievement of Esther as a queen.
2. What lessons should Christian youths learn from the life of Esther?