RCCG HOUSE FELLOWSHIP LEADERS' MANUAL DATE: SUNDAY, 8TH AUGUST 2021 LESSON: 49
TOPIC: THE ROLE OF A VIRTUOUS WOMAN IN THE FAMILY
HOUSE FELLOWSHIP ANTHEM:
1. I Love This Family Of God,
So Closely Knitted Into One,
They Have Taken Me Into Their Arms
And `am So Glad To Be
RCCG TOPIC
69TH RCCG ANNUAL CONVENTION 2021
OPEN HEAVENS
A Part Of This Great Family
2. I Bless This Family Of God,
So Greatly Prospered By The Lord,
They Have Taken Me Into Their Arms
And ´am So Glad To Be
A Part Of This Great Family
3. I Know This Family Of God,
So Deeply Rooted In The Word,
They Have Taken Me Into Their Arms
And ´am So Glad To Be
A Part Of This Great Family
4. I See This Family Of God,
So Highly Lifted Above All,
They Have Taken Me Into Their Arms
And ´am So Glad To Be
A Part Of This Great Family
5. Come, Join This Family Of God,
So Highly Favoured By The Lord,
They Have Taken Me Into Their Arms
And ´am So Glad To Be
A Part Of This Great Family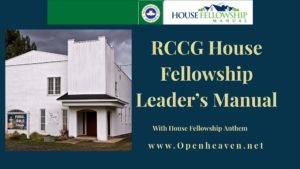 OPENING PRAYER: Father, please make our women virtuous in Your sight, always.
PREVIOUS KNOWLEDGE: What are the causes of anger? The leader should ask the members.
TODAY'S LESSON:
A: MEMORY VERSE: "A virtuous woman is a crown to her husband: but she that maketh ashamed is as rottenness in his bones.
– Proverbs 12:4
B: BIBLE TEXT: Proverbs 31:10-31
10 – Who can find a virtuous woman? for her price is far above rubies.
11 – The heart of her husband doth safely trust in her, so that he shall have no need of spoil.
12 – She will do him good and not evil all the days of her life.
13 – She seeketh wool, and flax, and worketh willingly with her hands.
14 – She is like the merchants' ships; she bringeth her food from afar.
15 – She riseth also while it is yet night, and giveth meat to her household, and a portion to her maidens.
16 – She considereth a field, and buyeth it: with the fruit of her hands she planteth a vineyard.
17 – She girdeth her loins with strength, and strengtheneth her arms.
18 – She perceiveth that her merchandise is good: her candle goeth not out by night.
19 – She layeth her hands to the spindle, and her hands hold the distaff.
20 – She stretcheth out her hand to the poor; yea, she reacheth forth her hands to the needy.
21 – She is not afraid of the snow for her household: for all her household are clothed with scarlet.
22 – She maketh herself coverings of tapestry; her clothing is silk and purple.
23 – Her husband is known in the gates, when he sitteth among the elders of the land.
24 – She maketh fine linen, and selleth it; and delivereth girdles unto the merchant.
25 – Strength and honour are her clothing; and she shall rejoice in time to come.
26 – She openeth her mouth with wisdom; and in her tongue is the law of kindness.
27 – She looketh well to the ways of her household, and eateth not the bread of idleness.
28 – Her children arise up, and call her blessed; her husband also, and he praiseth her.
29 – Many daughters have done virtuously, but thou excellest them all.
30 – Favour is deceitful, and beauty is vain: but a woman that feareth the LORD, she shall be praised.
31 – Give her of the fruit of her hands; and let her own works praise her in the gates.
C: LESSON INTRODUCTION:
Virtue is the ability to conform to life and conduct, through all known moral principles. A virtuous women is an embodiment of excellent moral character derived from the new life on Jesus Christ.
LEADERS DIARY:
A: LESSON AIM: To explain in details who a virtuous woman is and her role in the home.
B: TEACHING OBJECTIVES: At the end of the lesson, members should be able to:
i. Identify the characteristics of a virtuous woman.
ii. And then differentiate them from other women.
C: TEXT REVIEW: Proverbs 31:10-31
i. A virtuous woman is priceless.
ii. Her qualities are not common.
D: TEACHING METHOD: The leader should use the discussion method.
E: TIME MANAGEMENT: Share the teaching time using the suggested time schedule.
LESSON OUTLINES: There are two outlines:
A: WHAT TYPE OF ROLE DOES SHE PLAY IN THE FAMILY?
a.- Faith: She demonstrates a high degree of faith in God. – Hebrews 11:1 ,6
b.- Marriage: In her marriage she is a "home builder". – Proverbs 14:1
c.- Motherhood: She nurtures and trains the children with the love of God and disciplines them with care and wisdom. – Proverbs 31:28, 4:7-8
d.- Stewardship: She is a wise steward of the gifts that God has given her. She spends prudently. – Proverbs 31:14-18
e.- Industry: She is industrious. – Philippians 2:14, Proverbs 31:13f
f.- Beauty: She is creative. She embraces beauty and godliness. – 1 Timothy 2:9, 1 Peter 3:3-6
B: Biblical examples of virtuous women:
1.- Esther: She spearheaded the battle that liberated her people from their bondage. – Esther 3 & 4.
2.- Hannah: She stoutly stood against barrenness in her family. She is also worthy of emulation in terms of redeeming vows to God. – 1 Samuel 1:21-28
3.- Ruth: She demonstrated high level of faith in God. – Ruth 1:1-22
4.- Abigail: She was able to avert the evil that would have befallen her family. – 1 Samuel 25:14-35
5.- Sarah: She epitomizes humility and respect from a wife to her husband. – 1 Peter 3:6
ACTIVITY: Who is a virtuous woman?
SUMMARY: God's intention is that every woman should be virtuous. So, please don't disappoint Him.
CONCLUSION: Every woman should strife to be a virtuous woman. Ask God to make you one today. If you are already one, pray to the Father to sustain you.
PRAYER POINTS:
1. Father, thank You for this exposition about a virtuous woman.
2. Father, please grant all our women the grace to be one.
3. Father, we are interceding for all RCCG members. Help us to affect our generation positively.
4. Father, please help Daddy and Mummy G.O. to finish strong.
5. Personal prayer requests.
ASSIGNMENT: Diligently carry out all the daily tasks outlined in the GOLDEN DIET below.
GOLDEN DIET FOR THE WEEK (print or write it out so that you can participate daily):
MONDAY:
Proverbs 12:4 – Father, please grant our women the grace to be the crown of their husbands.
TUESDAY:
Proverbs 14:1 – Father, to be a builder entails a lot of determination, perseverance and hard work. Please strengthen our women to be HOME BUILDERS.
WEDNESDAY:
Proverbs 22:6, Ephesians 6:4 – Father, please release unto all women the grace to nurture our children in a godly way.
THURSDAY:
1 Corinthians 13:13 – Father, please help our women to serve their husbands, family and others around them with love and kindness.
FRIDAY:
1 Timothy 6:10 – Father, please do not let the love of money be the bane for our women.
SATURDAY:
Philippians 2:14 – Father, please do not allow the spirit of murmuring enter the lives of our women.
SUNDAY:
Titus 2:5 – Father, please let the words in this Titus text be the lot of our women.
RCCG HOUSE FELLOWSHIP LEADERS' MANUAL DATE: SUNDAY, 8TH AUGUST 2021 LESSON: 49