Subscribe to Blog via Email
RCCG JUNIOR ZEAL (AGES: 9-12) TEACHER'S MANUAL SUNDAY 8TH OF AUGUST 2021 LESSON FORTY NINE (49)
TOPIC: BE READY TO GO WITH JESUS
BIBLE TEXT: John 14:1-4
[1]Let not your heart be troubled: ye believe in God, believe also in me.
[2]In my Father's house are many mansions: if it were not so, I would have told you. I go to prepare a place for you.
[3]And if I go and prepare a place for you, I will come again, and receive you unto myself; that where I am, there ye may be also.
[4]And whither I go ye know, and the way ye know.
MEMORY VERSE: 1 John 2:28 "And now, little children, abide in him; that when he shall appear, we may have confidence and not be ashamed before him at his coming"
LESSON AIM: To let the children prepare themselves for the coming of Jesus Christ.
CENTRAL TRUTH: Jesus Christ is coming for a Prepared Bride (church)
RCCG TOPIC
69TH RCCG ANNUAL CONVENTION 2021
OPEN HEAVENS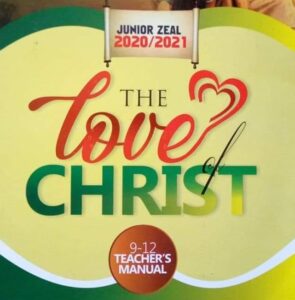 INTRODUCTION: The counsel of Jesus Christ to believers is that we should believe in Him. He has gone to heaven to prepare a place for us. When He comes back He will take us there so that we can be where He is.
STUDY GUIDE
A. HOW TO BE READY
1. Be watchful (alert, awake) – Matthew 24:42-44
2. Be sober and vigilant – 1 Peter 5:8,1 Thessalonians 5:8
3. Be expectant – Luke 19:27
4. Be Spirit filled – Ephesians 5:18
5. Live a righteous and Godly lives -Titus 2:11-13
6. Encourage one another – 1 Thessalonians 4:16
7. Be knowledgeable
8. Keep preaching the gospel – John 9:4; 2 Timothy 4:2
9. Be prayerful – 1 Peter 4:7, Matthew 26:41
10. Guard your crown – Revelation 3:11
11. Have faith in God – 1 Peter 1:5
12. Put on the whole armour of God – Ephesians 6:11-18
13. Fear God – Philippians 2:12
B. BENEFITS OF BEING PREPARED
1. Heavenly home – John 14:4
2. Crown of righteousness – 2 Timothy 4:8
3. Everlasting joy – Isaiah 35:10
4. There wil be no shame – Revelation 16:15
5. Marriage with Christ – Revelation 19:7
6. Rejoicing – Psalm 118:15; 1 Thessalonians 2:19
RCCG JUNIOR ZEAL (AGES: 9-12) TEACHER'S MANUAL SUNDAY 8TH OF AUGUST 2021 LESSON FORTY NINE (49)
CONCLUSION: Jesus Christ is coming soon.
INVITATION: Accept Jesus Christ today.
ACTIVITY: Read the story of the ten virgin in Matthew 25:1-13
LIFE APPLICATION: You all need to be to be ready and prepared to go with Our Lord and Saviour Jesus Christ. Luke 9:23 to be ready to go with Jesus, you must
1. Deny yourself
2. Take up your cross
3. Follow Him you havea price to pay, but it is worth it.
Open Heavens Daily Devotional
guide was written by
Pastor E.A. Adeboye
, the General Overseer of the Redeemed Christian Church of God, one of the largest evangelical church in the world and also the President of Christ the Redeemer's Ministries.
The Open Heavens devotional
application is available across all mobile platforms and operating systems: iOS, Android, Blackberry, Nokia, Windows Mobile and PC.
DAILY DEVOTIONAL:
SUNDAY: ISAIAH 51:9-16
MONDAY: ISAIAH 51:17-23
TUESDAY: ISAIAH 52:1-7
WEDNESDAY: ISAIAH 52:8-15
THURSDAY: ISAIAH 53:1-6
FRIDAY: ISAIAH 53:7-12
SATURDAY: ISAIAH 54:1-8
RCCG JUNIOR ZEAL (AGES: 9-12) TEACHER'S MANUAL SUNDAY 8TH OF AUGUST 2021 LESSON FORTY NINE (49)