RCCG JUNIOR ZEAL (AGE 6-8)TEACHER'S MANUAL LESSON FORTY-NINE (49) SUNDAY: 8TH AUGUST 2021
TOPIC: BE READY TO GO WITH JESUS
BIBLE TEXT: JOHN 14: 1-4
1Let not your heart be troubled: ye believe in God, believe also in me.
2 In my Father's house are many mansions: if it were not so, I would have told you. I go to prepare a place for you.
3 And if I go and prepare a place for you, I will come again, and receive you unto myself; that where I am, there ye may be also.
4 And whither I go ye know, and the way ye know.
MEMORY VERSE: JOHN 14:6 "And I will pray the Father, and he shall give you another Comforter, that he may abide with you forever".
LESSON AIM: The children will know that accepting Jesus is the only way to God.
CHILD RELATED TRUTH: Jesus is the only way to God.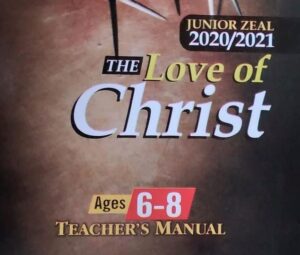 RCCG JUNIOR ZEAL (AGE 6-8)TEACHER'S MANUAL LESSON FORTY-NINE (49) SUNDAY: 8TH AUGUST 2021
INTRODUCTION: Children! There is this story of a three-year-old boy who was lost during one of the major programs in Redemption Camp. His parents were looking for him everywhere and didn't know where he could be in such a big place. They went to the Information Bureau so many times, but nobody had brought a lost and found child. The little boy told his parents later. That when he realised that he couldn't see his mum and dad again, he figured he was lost and remembered what their auntie told them in Sunday school. That anytime they are lost; they should remember to pray to Jesus who will help them to find their way. He became overjoyed and relieved when he found his parents after asking Jesus to show him the way to them.
PROGRESSION OF EVENTS:
1. Jesus told his disciples not to worry, but to put their trust in him and God.
GOSPEL CONNECTION:
God loves us so much that He sent His son down to Earth. God sent Jesus to save and find us. When you believe in Jesus as Lord and Saviour, he will find you and lead you back to God. Like John 3:16 says. "For God loved the world so much that He gave His one and only Son so that everyone who believes in Him will not perish but have eternal life".
2. Jesus said there is more than enough room. In his Father's house.
3. Jesus told them. If it was not so, he would not have told them that he was going to prepare a place for them.
4. He said when everything is ready. He will come and get them.
CLIMAX: Jesus promised that they will always be where He is and told them that they know where He is going.
RCCG JUNIOR ZEAL (AGE 6-8)TEACHER'S MANUAL LESSON FORTY-NINE (49) SUNDAY: 8TH AUGUST 2021
RCCG TOPIC
69TH RCCG ANNUAL CONVENTION 2021
OPEN HEAVENS
CONCLUSION: One of the disciples, Thomas asked users to show them the way and he told them that he is the only way to God.
CHALLENGE: As believers, our desire is to be with Jesus all the time, everywhere. The only name that can save us is the name Jesus. He is the only true God and the only way for us to be saved from our sins. Romans 10:9 says, "if. You confess with your mouth that Jesus is Lord and believe in your heart that God raised him from the dead, you will be saved". Jesus is the only way to Heaven. We follow him when we confess that he is Lord. As his followers, we can be comforted knowing he will never lead us astray.
INVITATION: Call on the name of Jesus and be saved (Romans 10:13)
DAILY DEVOTION
Subscribe to Blog via Email
SUNDAY: Acts 23:1-10
MONDAY: Acts 23:11-16
TUESDAY: Acts 23:17-22
WEDNESDAY: Acts 23: 23-30
THURSDAY: Acts 23:31-35
FRIDAY: Acts 24:1-9
SATURDAY: Acts 24:10-15
RCCG JUNIOR ZEAL (AGE 6-8)TEACHER'S MANUAL LESSON FORTY-NINE (49) SUNDAY: 8TH AUGUST 2021