Subscribe to Blog via Email
RCCG JUNIOR ZEAL 2021/2022 AGE 9-12 TEACHER'S MANUAL SUNDAY 10Th OF OCTOBER 2021 LESSON 6
TOPIC: REVISION 1
• Teacher to revise the previous lessons with the Teenagers.
• You can also ask them questions to ensure lessons have been well understood.
• Please, remember to tell your class to review the previous lessons during the week before the revision day.
SUMMARY OF LESSON 1-5
LESSON ONE (01)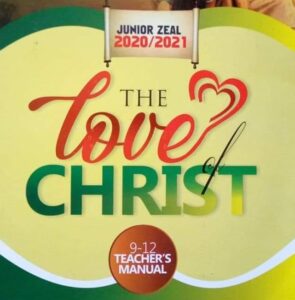 TOPIC: WHAT IS BLESSING?
BIBLE TEXT: Deuteronomy 28:1-13
[1]And it shall come to pass, if thou shalt hearken diligently unto the voice of the LORD thy God, to observe and to do all his commandments which I command thee this day, that the LORD thy God will set thee on high above all nations of the earth:
[2]And all these blessings shall come on thee, and overtake thee, if thou shalt hearken unto the voice of the LORD thy God.
[3]Blessed shalt thou be in the city, and blessed shalt thou be in the field.
[4]Blessed shall be the fruit of thy body, and the fruit of thy ground, and the fruit of thy cattle, the increase of thy kine, and the flocks of thy sheep.
[5]Blessed shall be thy basket and thy store.
[6]Blessed shalt thou be when thou comest in, and blessed shalt thou be when thou goest out.
[7]The LORD shall cause thine enemies that rise up against thee to be smitten before thy face: they shall come out against thee one way, and flee before thee seven ways.
[8]The LORD shall command the blessing upon thee in thy storehouses, and in all that thou settest thine hand unto; and he shall bless thee in the land which the LORD thy God giveth thee.
[9]The LORD shall establish thee an holy people unto himself, as he hath sworn unto thee, if thou shalt keep the commandments of the LORD thy God, and walk in his ways.
[10]And all people of the earth shall see that thou art called by the name of the LORD; and they shall be afraid of thee.
[11]And the LORD shall make thee plenteous in goods, in the fruit of thy body, and in the fruit of thy cattle, and in the fruit of thy ground, in the land which the LORD sware unto thy fathers to give thee.
[12]The LORD shall open unto thee his good treasure, the heaven to give the rain unto thy land in his season, and to bless all the work of thine hand: and thou shalt lend unto many nations, and thou shalt not borrow.
[13]And the LORD shall make thee the head, and not the tail; and thou shalt be above only, and thou shalt not be beneath; if that thou hearken unto the commandments of the LORD thy God, which I command thee this day, to observe and to do them:
MEMORY VERSE: Deut 28:2 "And all these blessings shall come on thee, and overtake thee, if thou shalt hearken unto the voice of the LORD thy God."
LESSON AIM: To let the children know the meaning of blessing
CENTRAL TRUTH: God delights to bless His children.
INTRODUCTION: In Deuteronomy 28:1-13, the Lord set out some blessings for the children of Israel. They can only appropriate the blessings if they diligently hearken to his commandments.
STUDY GUIDE:
A: DEFINITION OF BLESSING
1. Gifts of God towards mankind e.g children. Psalms 127
2. God's power on someone to do what he/ she is created to do. Luke 24:50; Gen 1:22
3. The favour of God resting upon you and whatever you put your hand on. Genesis 39:5-6
4. God commanding everything He has created to work in your favor. Genesis 22:17
5. Blessings is declaring or prophesying good things into people's life. Genesis 49:26
6. God's kindness to us. Luke 6:35
7. Blessing is an invitation to all forces in Heaven, on earth and under the earth to assist somebody to succeed.
B: EXAMPLES OF BLESSINGS (Deut 28:1-15, Joel 2:25, Numbers 6:24-26)
1. Blessing in the city and field.
2. Blessing of the fruit of the womb.
3. Peace
4. Restoration – Jeremiah 30:17
5. Riches – Psalm 112:3
6. Mercy
7. Favour – Psalm 5:2
8. Healing
9. Divine health – Jeremiah 30:17a
10. Provision – 2 Cor. 9:8
C. TYPES OF BLESSINGS
1. Spiritual blessings (Eph 1:3)
2 Material Blessings (Haggai 2:8)
3. Physical blessings (11imothy 6:8)
4 Financial blessings – Prov. 10:22
5. Mental Blessings (2 Timothy 1:7)
6 Parental Blessings – Prov. 13:22
7. Marital blessings – Prov. 18:22
8. Divine blessings – John 1:16
CONCLUSION: Blessing is God's favour poured into your life. Note that all blessings can be categorized under physical and spiritual blessings. God doesn't require us to pick and choose whether we want physical or spiritual blessings. God wants us to have both, and both are available. However, most people tend to pray only for physical blessings to make themselves more comfortable with material things. God wants us to have a balance of His blessings.
LESSON TWO (02)
RCCG JUNIOR ZEAL 2021/2022 AGE 9-12 TEACHER'S MANUAL SUNDAY 10Th OF OCTOBER 2021 LESSON 6
TOPIC: AUTHOR OF BLESSINGS
BIBLE TEXT: Genesis 26:1-12
[1]And there was a famine in the land, beside the first famine that was in the days of Abraham. And Isaac went unto Abimelech king of the Philistines unto Gerar.
[2]And the LORD appeared unto him, and said, Go not down into Egypt; dwell in the land which I shall tell thee of:
[3]Sojourn in this land, and I will be with thee, and will bless thee; for unto thee, and unto thy seed, I will give all these countries, and I will perform the oath which I sware unto Abraham thy father;
[4]And I will make thy seed to multiply as the stars of heaven, and will give unto thy seed all these countries; and in thy seed shall all the nations of the earth be blessed;
[5]Because that Abraham obeyed my voice, and kept my charge, my commandments, my statutes, and my laws.
[6]And Isaac dwelt in Gerar:
[7]And the men of the place asked him of his wife; and he said, She is my sister: for he feared to say, She is my wife; lest, said he, the men of the place should kill me for Rebekah; because she was fair to look upon.
[8]And it came to pass, when he had been there a long time, that Abimelech king of the Philistines looked out at a window, and saw, and, behold, Isaac was sporting with Rebekah his wife.
[9]And Abimelech called Isaac, and said, Behold, of a surety she is thy wife: and how saidst thou, She is my sister? And Isaac said unto him, Because I said, Lest I die for her.
[10]And Abimelech said, What is this thou hast done unto us? one of the people might lightly have lien with thy wife, and thou shouldest have brought guiltiness upon us.
[11]And Abimelech charged all his people, saying, He that toucheth this man or his wife shall surely be put to death.
[12]Then Isaac sowed in that land, and received in the same year an hundredfold: and the LORD blessed him.
MEMORY VERSE: Gen 1:22 And God blessed them, saying, Be fruitful, and multiply, and fill the waters in the seas and let fowl multiply in the earth.
LESSON AIM: To let the children know the God that blesses
CENTRAL TRUTH: God is the source of ll blessings
INTRODUCTION: An Author is the creator of things. Therefore, the author of blessings means the one who originated blessings. The author of blessing is God. Revelations 21:6 says: l am Alpha and Omega, the beginning and the end. God is Alpha, the beginning of life i.e the beginning of blessing. Every good and perfect gift is from God. Irrespective of the challenges an individual might be passing through, God delights in blessing His children and He has not change. God blessed Isaac in
the midst of famine.
STUDY GUIDE
A. ATTRIBUTES OF THE GOD THAT BLESSES
1. He is Almighty – Gen. 28:3, Gen. 35:11
2. He is Omnipotent (All powerful) – Jer. 32:27
3. He is omniscient (He is all knowing) -1 Corin. 2:10
4. He is Omnipresent (He is everywhere) – Psalm 139:7-11
5. He cannot lie – Hebrews 6:18
6 He is just – Isaiah 45:21
7. He does not change – Hebrews 13:8
8. God is one and He is our Creator. Deut 6:4. God's name, in Hebrew is Yahweh.
In English, it is LORD. Job 33:4; Genesis 1:1-2, Genesis 1:26
9. God is Sovereign. Daniel 4:35, 1 Corin 12:7-11
B. BIBLICAL EXAMPLES OF THOSE WHOM GOD BLESSED.
1. Abraham (Genesis 22:16-17)
2. Isaac (Genesis 26:13-22)
3 King David (2 Samuel 7:8)
4 King Solomon (1 King 3:12-13)
5. Little Children (Matt 19:13-15)
6. Obededom (2 Sam 6:11)
C. WHAT TO DO TO GET GOD'S BLESSINGS
1. You can provoke His Blessings by serving him. (Exodus 23:25, Mal 3:17)
2. Accept Jesus Christ as your LORD and Saviour. (Acts 3:19)
3 Be obedient to His command. (Deut. 28:1-13)
4 Be a blessing to God's kingdom by giving acceptable offerings.(Acts 24:17, Genesis 4:4)
5. Be diligent – Prov.13:4
CONCLUSION: The blessing of God is available for those who faithfully serve Him.
LESSON THREE (03)
RCCG JUNIOR ZEAL 2021/2022 AGE 9-12 TEACHER'S MANUAL SUNDAY 10Th OF OCTOBER 2021 LESSON 6
TOPIC: IMPORTANCE OF BLESSINGS
BIBLE TEXT: Genesis 27:33
[33]And Isaac trembled very exceedingly, and said, Who? where is he that hath taken venison, and brought it me, and I have eaten of all before thou camest, and have blessed him? yea, and he shall be blessed.
MEMORY VERSE: Psalms 1:3 "And he shall be like a tree planted by the rivers of water, that bringeth forth his fruit in his season, his leaf shall not wither, and whatsoever he doeth shall prosper
LESSON AIM: To let the children know the God that blesses
CENTRAL TRUTH: God is the source of ll blessings
INTRODUCTION: Esau and Jacob were twin brothers. Esau being the first born despised his birthright by selling it to Jacob over a plate of food, when it was time for their father to bless them, Jacob deceived the father and collected Esau's blessings with the help of their mother. After Isaac had already blessed Jacob with the covenant blessing. Esau requested for his own blessing but the father said Jacob had received his blessing. Do you have only one blessing, my father? Bless me too, my father! Esau retorted and wept aloud. This is to show the importance of blessing.
STUDY GUIDE
A. REASONS FOR BLESSING
1. Blessing brings healing – Mal 4:2
2. Blessing brings restoration – Joel 2:25
3. Blessings brings joy and fulfilment – Psalms 89:15
4. Blessings gives strength.
5. Blessing of God gives inheritance – Psalm 37:22
6. Blessing brings riches and power – 1 King 3:13
7. It terminates curse – Deut. 28:46
8. Opportunity to be a blessing to others – Gen.12:2
9. It gives authority – Gen. 41:39-44
10. Blessings end years of pains and sorrow- 1 Chron.4:9-10
B. HOW TO LOOSE GOD'S BLESSINGS
1. Acts Of Wickedness – Gen. 6:5
2. Pride – Prov. 29:3,
3. Lazy attitude – Col. 3:23
4. Lust – Judges 13:24-25
5. Carelessness – the story of Esau
C. EXAMPLES OF PEOPLE THAT LOST GOD'S BLESSINGS IN THE BIBLE
If we are not careful we can lose God's blessings.
Examples of people that lost God's blessing
1. Samson: He lost the power he had with God because he made some mistakes Judges 13:24-25
2. Ephraim Gen 48; Exodus 23:23-25
3. King Saul:1 Sam. 15:9; 1 Sam. 12:23
4. Adam and Eve – Gen. 3
5. Esau-Gen. 27:30-38
CONCLUSION: God has reasons why He blessed you, so make Sure you use His blessings He has given you to spread the good news.
LESSON FOUR (04)
RCCG JUNIOR ZEAL 2021/2022 AGE 9-12 TEACHER'S MANUAL SUNDAY 10Th OF OCTOBER 2021 LESSON 6
TOPIC: UNDERSTANDING THE BLESSING OF GOD (GOD THE FATHER)
BIBLE TEXT: Genesis 1:1-31
[1]In the beginning God created the heaven and the earth.
[2]And the earth was without form, and void; and darkness was upon the face of the deep. And the Spirit of God moved upon the face of the waters.
[3]And God said, Let there be light: and there was light.
[4]And God saw the light, that it was good: and God divided the light from the darkness.
[5]And God called the light Day, and the darkness he called Night. And the evening and the morning were the first day.
[6]And God said, Let there be a firmament in the midst of the waters, and let it divide the waters from the waters.
[7]And God made the firmament, and divided the waters which were under the firmament from the waters which were above the firmament: and it was so.
[8]And God called the firmament Heaven. And the evening and the morning were the second day.
[9]And God said, Let the waters under the heaven be gathered together unto one place, and let the dry land appear: and it was so.
[10]And God called the dry land Earth; and the gathering together of the waters called he Seas: and God saw that it was good.
[11]And God said, Let the earth bring forth grass, the herb yielding seed, and the fruit tree yielding fruit after his kind, whose seed is in itself, upon the earth: and it was so.
[12]And the earth brought forth grass, and herb yielding seed after his kind, and the tree yielding fruit, whose seed was in itself, after his kind: and God saw that it was good.
[13]And the evening and the morning were the third day.
[14]And God said, Let there be lights in the firmament of the heaven to divide the day from the night; and let them be for signs, and for seasons, and for days, and years:
[15]And let them be for lights in the firmament of the heaven to give light upon the earth: and it was so.
[16]And God made two great lights; the greater light to rule the day, and the lesser light to rule the night: he made the stars also.
[17]And God set them in the firmament of the heaven to give light upon the earth,
[18]And to rule over the day and over the night, and to divide the light from the darkness: and God saw that it was good.
[19]And the evening and the morning were the fourth day.
[20]And God said, Let the waters bring forth abundantly the moving creature that hath life, and fowl that may fly above the earth in the open firmament of heaven.
[21]And God created great whales, and every living creature that moveth, which the waters brought forth abundantly, after their kind, and every winged fowl after his kind: and God saw that it was good.
[22]And God blessed them, saying, Be fruitful, and multiply, and fill the waters in the seas, and let fowl multiply in the earth.
[23]And the evening and the morning were the fifth day.
[24]And God said, Let the earth bring forth the living creature after his kind, cattle, and creeping thing, and beast of the earth after his kind: and it was so.
[25]And God made the beast of the earth after his kind, and cattle after their kind, and every thing that creepeth upon the earth after his kind: and God saw that it was good.
[26]And God said, Let us make man in our image, after our likeness: and let them have dominion over the fish of the sea, and over the fowl of the air, and over the cattle, and over all the earth, and over every creeping thing that creepeth upon the earth.
[27]So God created man in his own image, in the image of God created he him; male and female created he them.
[28]And God blessed them, and God said unto them, Be fruitful, and multiply, and replenish the earth, and subdue it: and have dominion over the fish of the sea, and over the fowl of the air, and over every living thing that moveth upon the earth.
[29]And God said, Behold, I have given you every herb bearing seed, which is upon the face of all the earth, and every tree, in the which is the fruit of a tree yielding seed; to you it shall be for meat.
[30]And to every beast of the earth, and to every fowl of the air, and to every thing that creepeth upon the earth, wherein there is life, I have given every green herb for meat: and it was so.
[31]And God saw every thing that he had made, and, behold, it was very good. And the evening and the morning were the sixth day.
MEMORY VERSE: Gen. 1:28 "And God blessed them, and God said unto them, Be fruitful, and multiply, and replenish the earth, and subdue it: and have dominion over the fish of the sea"
LESSON AIM: To let the children know the person of God the Father.
CENTRAL TRUTH: God the Father is the first among the trinity.
INTRODUCTION: The book of 1 John 5:7 says there are three that bear record in heaven, the Father, the Word, and the Holy Ghost: and these three are one. God the Father was there at the creation. He made the Heaven and earth. He pronounced blessing of fruitfulness on mankind at creation.
STUDY GUIDE
A. WHO IS GOD THE FATHER?
1. God has always existed and always will – Psalm 90:2, Rev. 1:8
2. He is the first person of the Trinity, Psalms 145:8-9, 1 Cor. 8:6
3. He is the creator of all things (Gen 1:1-3, Eph 3:9)
4. God is a Spirit – John 4:24
5. He fills the entire universe – Acts 17:24-29
6. Omnipotent (All powerful) – Psalms 103:19
7. Omnipresent (His everywhere) – Gen 16:13-14, Psalms 139:7-12
8. Omniscient (He knows all things) – Psalms 139:1-6
9 God has a wonderful beautiful plan for man – 1 Corinthians 2:9
10. God loved man and wanted him to have salvation – Matthew 18:14
B. HOW GOD HAS BEEN A BLESSING TO MANKIND
1. He pronounced blessings on human being – Gen. 1:28
2. He created us in His own likeness – Gen. 1:26-27
3. He made all things – Acts 7:49-50
4. He sent His only son to die for our sins – John 3:16
5. He fights our battles for us – Exodus 14:14
6. He protects Us – Psalm 121:5-8
7. God provides for our needs – Philippians 4:19
8. He gives wisdom – James 1:5
9. God heals our sicknesses – Psalm 103:1-3
CONCLUSION: God is the maker of heaven and the earth but He made man in His own image in order to give Him pleasure by worshipping and serving Him. Recognizing the Lordship of God over our lives provide opportunities for us to enjoy all the blessings He has in store for us. The blessings include salvation of our souls, divine wisdom, protection and many more.
LESSON FIVE (05)
RCCG JUNIOR ZEAL 2021/2022 AGE 9-12 TEACHER'S MANUAL SUNDAY 10Th OF OCTOBER 2021 LESSON 6
RCCG Sunday School Manuals for 10th October 2021
Open Heavens Daily Devotional
guide was written by
Pastor E.A. Adeboye
, the General Overseer of the Redeemed Christian Church of God, one of the largest evangelical church in the world and also the President of Christ the Redeemer's Ministries.
The Open Heavens devotional
application is available across all mobile platforms and operating systems: iOS, Android, Blackberry, Nokia, Windows Mobile and PC.
RCCG MESSAGES
RCCG APRIL 2021 HOLY COMMUNION SERVICE THEME: GOD BLESS YOU – PART 4 (BLESSED FRUITS) MINISTERING: PASTOR E.A ADEBOYE
RCCG MARCH 2021 DIVINE ENCOUNTER THEME: GOD BLESS YOU – PART 3 (I WILL LIFT UP MY EYES UNTO THE HILLS).
TOPIC: UNDERSTANDING THE BLESSING OF CHRIST (GOD THE SON)
BIBLE TEXT: John 1:1-3
[1]In the beginning was the Word, and the Word was with God, and the Word was God.
[2]The same was in the beginning with God.
[3]All things were made by him; and without him was not any thing made that was made.
John 4:14
[14]But whosoever drinketh of the water that I shall give him shall never thirst; but the water that I shall give him shall be in him a well of water springing up into everlasting life.
MEMORY VERSE: Matthew 3:17 And lo a voice from heaven saying this is my beloved son in whom I'm pleased."
LESSON AIM: The children will believe in Jesus as their Saviour.
CENTRAL TRUTH: Jesus is the son of God and the savior of the world.
INTRODUCTION: Jesus Christ is the son of God because He was conceived by the power of the Holy-Ghost (Luke 1:35). He is the second person of the Trinity. When Jesus was baptized in river Jordan the voice of God from Heaven says, this is my beloved son in whom l am well pleased. The coming of Jesus Christ has brought joy and liberation to human race.
STUDY GUIDE:
A. WHO IS JESUS CHRIST?
1. He is the only begotten Son of God-John 3:16
2. He is known as Emmanuel Matt 16:16
3. He is known as The word John 1:1
4. The Saviour of The world Act 13:23
5. The Lamb of God John 1:29, 1Pet 1:19
6. The Great Shepherd Hebrews 13:20
7. The Redeemer Isa 59:20
B. JESUS'S MISSION
1. To save us from our sins-Mathew 1:21
2. He came to take away the sin of the world – John 1:29
3. He became mediator between God and man 1 Timothy 2:5
4. To destroy the works of the Devil-1 John 3:8
5. Jesus came to reveal God to us- Colossians 1:13,15, 2 Corinthians 4:4
6. Knowing Jesus, gives us good understanding of God. John 8:19
7. Christ death reconciled us back to God Romans 5:6-11
8. He came to give us eternal life. 1John 4:9 This is how He showed His love among us, He sent His one and only son to the world that we might live through Him.
CONCLUSION: Jesus Christ is the son of God, the Prince of Peace. (lsaiah 9:6). He has given us power to be children of God John 1:12