Subscribe to Blog via Email
RCCG SUNDAY SCHOOL TEACHER'S MANUAL LESSON SIX SUNDAY 10TH OCTOBER 2021
TOPIC: BEATITUDES: THE POOR AND THE MOURNER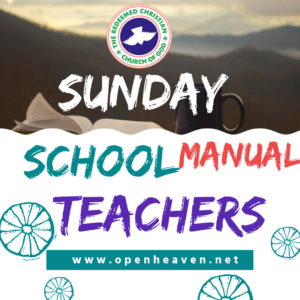 SUNDAY SCHOOL HYMN
1. O Sunday School, on the Lord's day,
O how I love Thee well,
I am happy, it makes me glad
To rejoice at Thy birth.
2. O Sunday School, on the Lord's day,
Thy friend friendship suits me well,
Both young and will sing Thy song,
We long for Sunday School.
3. O Sunday School, on the Lord's day,
Christ was Thy first teacher,
The Holy Spirit, great teacher,
Does manifest in thee.
4. O Sunday School, on the Lord's day,
This testimony is sure,
That God, the Father Almighty,
Poured His blessing on Thee
5. O Sunday School, on the Lord's day,
Though the sun be so bright,
Or if the clouds be black with rain,
I'll be in Sunday School.
6. O Sunday School, on the Lord's day
I rejoice to see Thee,
Will thou pass over me today?
Without my being blest?
RCCG Sunday School Manuals for 10th October 2021
RCCG MESSAGES
RCCG APRIL 2021 HOLY COMMUNION SERVICE THEME: GOD BLESS YOU – PART 4 (BLESSED FRUITS) MINISTERING: PASTOR E.A ADEBOYE
RCCG MARCH 2021 DIVINE ENCOUNTER THEME: GOD BLESS YOU – PART 3 (I WILL LIFT UP MY EYES UNTO THE HILLS).
OPENING PRAYER
Father please make my life beautiful inside-out.
MEMORY VERSE: "The sacrifices of God are a broken spirit: a broken and contrite heart, O God, thou wilt not despite". –Psalms 51:17
BIBLE PASSAGE: MATTHEW 5:1-4
1 And seeing the multitudes, he went up into a mountain: and when he was set, his disciples came unto him:
2 And he opened his mouth, and taught them, saying,
3 Blessed are the poor in spirit: for theirs is the kingdom of heaven.
4 Blessed are they that mourn: for they shall be comforted.
INTRODUCTION
If you are extraordinarily happy, you might describe what you are feeling as beatitude. The noun, beatitude, refers to a state of great joy. Being Blessed, or at least feeling blessed, is often linked to beatitude. Beatitude is from the latin word 'beatus' meaning 'rich', 'happy' and 'blessedness'. The corresponding word in the original Greek is 'makarioi' with the same meaning.
In the Bible, the beatitudes are a series of eight blessings spoken by Jesus in Matthew 5. In the sermon on the mount, Jesus used the word to more than a superficial happiness. In this context, 'blessed' refer to a state of spiritual wellbeing and prosperity. The beatitudes describe the ideal disciple and his rewards, both present and future.
TEXT REVIEW: MATTHEW 5:1-4.
A. The beatitude is one of the important sermons Jesus preached during his earthly ministry.
B. When Jesus saw the multitude:
i. He went on the mountain and his disciples also joined him on the mountain……..V1.
ii. Jesus began to say:..V2a.
a. Blessed are……….V3a.
For………………………..V3b.
b. Blessed are…………..V4a.
For……………………………V4b.
LESSON OUTLINES
1. BLESSED ARE THE POOR IN SPIRIT
2. BLESSED ARE THOSE WHO MOURN
BLESSED ARE THE POOR IN SPIRIT
'Blessed are the poor in spirit, for theirs is the kingdom of Heaven' (Matthew 5:3).
Question 1:
Who are the poor 'in spirit'?
Answer:
The 'poor in spirit' are those who feel a deep sense of spiritual need and understand their emptiness before God (Isaiah 66:2).
i. They are humble and lowly in their own eyes. (Isa. 66:2).
ii. They see their want, bewail their guilt, and thirst after a Redeemer (Psalms 51:17).
iii. There must be emptiness before there can be fullness, and so poverty of spirit precedes riches and Grace in the kingdom of God (John 12:24).
This means:
i. We are to be emptied of our selfish pride, self-reliance, sinful thoughts and actions.
ii. We are to die daily to ourselves and be emptied moment by moment.
iii. Emptying is not the end but rather, the beginning. We are emptied in order to be filled.
Therefore, When Jesus says, "Blessed are the poor in spirit, for theirs is the kingdom of heaven," He is declaring that, before we can enter God's kingdom, we must recognise our worthlessness and the inability of our own works to save us.
Question 2:
Why is the kingdom of heaven for 'the poor in the spirit'?
Answer:
The kingdom of heaven is for 'the poor in spirit', because they seek it, and, therefore, find and abide in it.
i. To this virtue is opposed the pride of a Pharisee in (Luke 18:10-14) This caused a certain Pharisee to thank God that he was not as other men, and to despise and reject the kingdom of heaven.
ii. The "Kingdom of heaven" essentially refers to salvation.
iii. The kingdom of heaven is both eternity in heaven with God after death (Romans 6:23) and the eternal quality of life with God before death (John 10:10).
iv. God offers us salvation as a gift, though the sacrifice of Jesus Christ on the cross, the the full payment for sin's penalty. Before we can receive this gift, we must understand that we cannot make ourselves worthy of it.
v. Salvation is by grace through faith, not of works (Ephesians 2:8-9).
a. We must recognize our sinfulness before we can understand our need for a saviour.
b. We must admit our spiritual poverty before we can receive the spiritual riches God offers (Ephesians 1:3). We must, in short, be "poor in spirit"
RCCG SUNDAY SCHOOL TEACHER'S MANUAL LESSON SIX SUNDAY 10TH OCTOBER 2021
CLASS ACTIVITY 1
What is the main blessing for 'the poor in the spirit'
BLESSED ARE THOSE WHO MOURN
'Blessed are they that mourn:for they shall be comforted' (Matthew 5:4).
Question 1:
Who are those mourn?
Answer:
This is capable of two meanings:
i. those afflicted with the loss of friends or possessions;
ii. Those who mourn over sin.
iii. As Christ came to preach repentance, to induce men to mourn over their sins, and to forsake them, it is probable that he had the latter particularly in view (2Corinthians 7:10).
iv. At the same time, it is true that the gospel only can give true comfort to those in affliction (Isaiah 61:1-3; Luke 4:18).
v. The term 'mourn' means "to experience deep grief." In keeping with His theme of spiritual blessedness, Jesus seems to indicate that this mourning is due to grief over sin.
Question 2:
Why are these blessings for those who mourn?
Answer:
The people who agree with God about the evil of their own hearts can attain an 'enviable state of blessedness,' due to the comfort they receive from communion with the Holy Spirit. Jesus called the Holy Spirit the comforter (John 14:16,26; 15:26; 2Corinthians 1:4).
i. The holy spirit comforts those who are honest about their own sin and humble enough to ask for forgiveness and healing.
ii. Those who hide their sin or try to justify it before God can never know the comfort that comes from a pure heart, as Jesus talks about in Matthew 5:8 (Proverbs 28:13; Isaiah 57:15).
iii. The blessing is not upon all that mourn but upon those who mourn in reference to sin.
iv. They shall be comforted by the discovery and appropriation of God's pardon.
v. We may take it, therefore, that in its widest sense the beatitude covers all those who are led by mourning to a discerning of sin, and who so deplore it's effects and consequences in the world as to yearn for and seek the deliverance which is in Christ Jesus.
CLASS ACTIVITY 2
Class should discuss the proper way to show remorse for doing something wrong.
SUMMARY
Those who are empty themselves so that God can fill them and those who are quick to repent from their sins are blessed.
CONCLUSION
Open Heavens Daily Devotional
guide was written by
Pastor E.A. Adeboye
, the General Overseer of the Redeemed Christian Church of God, one of the largest evangelical church in the world and also the President of Christ the Redeemer's Ministries.
The Open Heavens devotional
application is available across all mobile platforms and operating systems: iOS, Android, Blackberry, Nokia, Windows Mobile and PC.
RCCG SUNDAY SCHOOL TEACHER'S MANUAL LESSON SIX SUNDAY 10TH OCTOBER 2021
God has chosen the poor in spirit and those that mourn for their sins to be rich in faith, comforted and become the heirs of His kingdom.
CLOSING PRAYER
Father, please give a broken and contrite heart, always seeking to please you.
ASSIGNMENT
Pray and work on yourself to seek God daily