Subscribe to Blog via Email
RCCG JUNIOR ZEAL (AGE 6-8) TEACHER'S MANUAL LESSON FORTY-FIVE (45) SUNDAY: 11TH JULY 2021
TOPIC: SUPPORT MISSIONS
BIBLE TEXT: MATTHEW 28:19-20
19 Go ye therefore, and teach all nations, baptizing them in the name of the Father, and of the Son, and of the Holy Ghost:
20 Teaching them to observe all things whatsoever I have commanded you: and, lo, I am with you always, even unto the end of the world. Amen.
MEMORY VERSE: Mark 16:15 "15 And he said unto them, Go ye into all the world, and preach the gospel to every creature.".
LESSON AIM: The children will be able to feel the need of others who are beyond their neighbourhood.
CHILD RELATED TRUTH: God wants you to take care of those in need.
RCCG JUNIOR ZEAL (AGE 6-8) TEACHER'S MANUAL LESSON FORTY-FIVE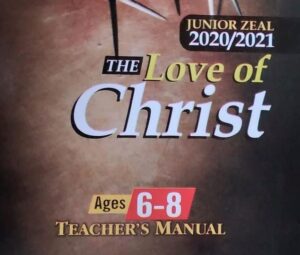 INTRODUCTION
Children! when we face the reality that there are children in the world who are in need, it is comforting that we can do something about it. In Mark 16:15, Jesus commanded the disciples to share the good news with everyone which includes the needy. They are missionaries who go everywhere in the world to share the good news and also help the needy. You too can be involved in missions in different ways. What is Mission? Mission is an organized effort to spread the gospel for one place to another. It involves sending individuals or groups of individuals across boundaries to carry out evangelism. It is God's total plan for the salvation of mankind. The Lord Jesus commands us to go and preach the gospel. Mark 16:15, Matthew 28:19-20
PROGRESSION OF EVENTS:
1. You can pray for the specific needs of missionaries.
A. For financial support so that they remain in their mission fields.
B. For them to be able to point others to Christ.
C. Forgot to give them loving hearts to be able to live in peace with other missionaries and those they are ministering to.
D. For God to meet the needs of their families good health and their own needs.
2. You can write letters.
A. To describe your family and what you are facing in your school.
B. To tell the missionaries that you are praying for them.
C. And to share with them what you are doing to raise money to help in the mission field.
3. You can give your own money.
A. By saving from your pocket money to buy bibles for the children where the missionaries work.
B. To help provide food, clothing, travel allowance.
4. You can also be witnesses.
A. by telling others about Jesus Christ
B. and also, in preparation to become a missionary in the future if God should call you.
CLIMAX: Jesus wants you to preach the gospel all over the world.
CONCLUSION: Missions is the heartbeat of Jesus.
CHALLENGE: As a follower of Jesus, you must support missions by:
1. By going.
2. By praying.
3. By giving your money.
Pray and ask God to help you support missions in any of these ways.
INVITATION: Before committing your life to missions, believe on the Lord Jesus as your Saviour. (John 5:24: Verily, verily, I say unto you, He that heareth my word, and believeth on him that sent me, hath everlasting life, and shall not come into condemnation; but is passed from death unto life.)
RCCG PUBLICATIONS
Open Heavens Daily Devotional
guide was written by
Pastor E.A. Adeboye
, the General Overseer of the Redeemed Christian Church of God, one of the largest evangelical church in the world and also the President of Christ the Redeemer's Ministries.
The Open Heavens devotional
application is available across all mobile platforms and operating systems: iOS, Android, Blackberry, Nokia, Windows Mobile and PC.
SUNDAY: Acts 18:1-6
MONDAY: Acts 18:7-17
TUESDAY: Acts 18:18-23
WEDNESDAY: Acts 18:24-28
THURSDAY: Acts 19:1-5
FRIDAY: Acts 19:6-10
SATURDAY: Acts 19:11-20
RCCG JUNIOR ZEAL (AGE 6-8) TEACHER'S MANUAL LESSON FORTY-FIVE (45) SUNDAY: 11TH JULY 2021