Subscribe to Blog via Email
RCCG JUNIOR ZEAL (AGES: 9-12) TEACHER'S MANUAL SUNDAY 11TH OF JULY 2021 LESSON FORTY FIVE (45)
TOPIC: SUPPORT MISSION
BIBLE TEXT Mark 16. 15
[15]And he said unto them, Go ye into all the world, and preach the gospel to every creature.
MEMORY VERSE: Philpplans 4:15 "Nww ye Phillpplans know also, that in the
beginning of the gospel, when departed from Macedonia, no church communicated with me as concerning giving and receiving but ye only"'.
LESSONAIM: To let the children know the need to support mission.
CENTRAL TRUTH: Itis godly to support mission.
RCCG PUBLICATIONS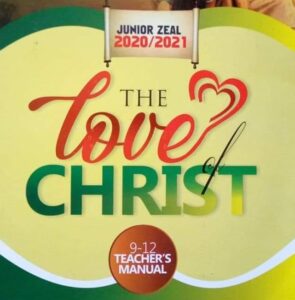 INTRODUCTION
Jesus Christ commanded His disciples to go into all the world and preach the gospel to every creature. Missionary work involved taking the gospel to where it has not reached.
STUDY GUIDE
A. REASONS TO SUPPORT MISSION
1. lt is a command – Matthew 28:18-20
2. We must be involved – Romans 10:14-15
3. Workers are few – Matthew 9: 37-38
4. To encourage missionaries – Philippians 4:10-18
5. We have better reward – Hebrews 6:10
6. It is a love response towards unsaved souls
B. BENEFITS OF SUPPORTING MISSION
1. You impact the world for Christ – Matthew 28:19
2 lt populates the kingdom of God – Acts 2:41-47
3. Itbrings joy – Acts 15:3
4. lt produces miracles – 2 Kings 4:15-17
5. It brings honour to God – Acts 3:8
C. WHAT YOU CAN GIVE TO SUPPORT
MISSION
1. Money
2. Bibles
3. Toiletries
4. Clothes
5. Shoes
6. Bible literatures
7. Slippers
8. Foodstuff
9. Prayer for missionaries
10. You can make yourself available
CONCLUSION
Do something to support mission. Either by going, giving or praying.
INVITATION: Give your life to Jesus in order for your support in mission to be acceptable.
ACTIVITY: Pray for missionaries.
LIFE APPLICATION: It is our responsibility to support mission work so that the Kingdom of God can expand. You can support mission by
1. Praying for missionaries
2. Giving to mission field/missionaries
3. Giving for mission work.
Start from somewhere today
Open Heavens Daily Devotional
guide was written by
Pastor E.A. Adeboye
, the General Overseer of the Redeemed Christian Church of God, one of the largest evangelical church in the world and also the President of Christ the Redeemer's Ministries.
The Open Heavens devotional
application is available across all mobile platforms and operating systems: iOS, Android, Blackberry, Nokia, Windows Mobile and PC.
RCCG JUNIOR ZEAL (AGES: 9-12) TEACHER'S MANUAL SUNDAY 11TH OF JULY 2021 LESSON FORTY FIVE (45)
DAILY DEVOTIONAL
SUNDAY: ISAIAH 38:9-22
MONDAY: ISAIAH 39:1-8
TUESDAY: ISAIAH 40:1-9
WEDNESDAY: ISAIAH 40:10-20
THURSDAY: ISAIAH 40:21-31
FRIDAY: ISAIAH 41:1-10
SATURDAY: ISAIAH 41:11-20