RCCG SUNDAY SCHOOL TEACHER'S MANUAL LESSON FORTY-FIVE 11TH JULY 2021
TOPIC: SLEEP HEALTH
SUNDAY SCHOOL HYMN
1. O Sunday School, on the Lord's day,
O how I love Thee well,
I am happy, it makes me glad
To rejoice at Thy birth.
2. O Sunday School, on the Lord's day,
Thy friend friendship suits me well,
Both young and will sing Thy song,
We long for Sunday School.
3. O Sunday School, on the Lord's day,
Christ was Thy first teacher,
The Holy Spirit, great teacher,
Does manifest in thee.
4. O Sunday School, on the Lord's day,
This testimony is sure,
That God, the Father Almighty,
Poured His blessing on Thee
5. O Sunday School, on the Lord's day,
Though the sun be so bright,
Or if the clouds be black with rain,
I'll be in Sunday School.
6. O Sunday School, on the Lord's day,
I rejoice to see Thee,
Will thou pass over me today?
Without my being blest?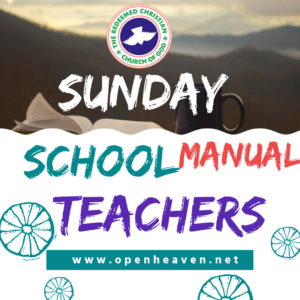 RCCG PUBLICATIONS
OPENING PRAYER
Father, do not let me sleep the sleep of death. Do not let me sleep when I am supposed to be awake.
MEMORY VERSE: "And there sat in a window a certain young man named Eutychus, being fallen into deep sleep: and as Paul was long preaching, he sunk down with sleep, and fell down from the third loft, and was taken up dead". — Acts 20:9
BIBLE PASSAGE: PROVERBS 6:9-11
Proverbs:6.9
How long will you slumber, O sluggard? When will you rise from your sleep?
Proverbs:6.10
A little sleep, a little slumber, A little folding of the hands to sleep —
Proverbs:6.11
So shall your poverty come on you like a prowler, And your need like an armed man.
INTRODUCTION
Sleep health is a phenomenon that captures the nature of sleep in humans, the associated disorders and remedies. In this context, it is important to have the knowledge of how much or how well we sleep and deal with any lifestyle habits that run contrary to proper sleeping habits. We shall therefore consider the stages and spectrum of sleep as well as some sleep disorders in this study.
TEXT REVIEW: PROVERBS 6:9-11.
Identify five things that are associated with sleep but which can lead to poverty.
i.
ii.
iii.
iv.
v.
LESSON OUTLINES
1. STAGES AND SPECTRUM OF SLEEP
2. SLEEP DISORDERS
STAGES AND SPECTRUM OF SLEEP
A. Teachers should identify the following stages of sleep.
i. Slumbering or dozing (Matthew 25:1-5).
ii. Sleep (Proverbs 3:24),
iii. Deep sleep (Genesis 2:21-23;Job 4:13),
iv. Sleep of death or coma (Psalm 13:3; Jeremiah 51:57),
v. Death ( John 11:11-14).
Teacher should allow the student to use their experience (Personal, heard or seen) to differentiate among the above-stated stages of sleep.
B. Teacher should enumerate the sleep, spectrum or duration or length Of sleep as follows:
i. No sleep (Daniel 6:18),
ii. moderate sleep (Ecclesiastes 5:12)
iii. excessive sleep (Acts 20:9).
ACTIVITY: Teacher should allow student to discuss how the following factors could determine/influence the sleep spectrum i.e the amount of sleep required or sleep scale.
i. Age (infant, youth, adult, aged).
ii. lifestyle or habit Proverbs 19:15
iii. Love for sleep. Proverbs 20:13
SLEEP DISORDERS
Subscribe to Blog via Email
C. Teacher should identify some Sleep disorders as enumerated below:
i. 'Insomnia' – lack of sleep
ii. Hypersomnia – excessive sleep or oversleeping.
iii. Sleep apnoea – temporary cessation of sleep
iv. Sleep paralysis – your mind is conscious but you are unable to move your body in the process of waking up.
v. Simnambulism- sleep walking
vi. Somniloquism- sleep talking
Teacher should allow student to discuss how each of the disorders so, could affect the patients. For instance:
i. Insomnia could lead to emotional difficulties, risk of stroke/heart diseases, poor job performance etc.
ii. Hypersomnia- poor quality of job.
iii. Sleep apnoea/paralysis – health issues
iv. Sleep walking – danger of walking into danger.
v. Sleep talking – incoherent utterances, etc
Note: there is no need for class activities again because the two outline are full of activities. Therefore, those who participated should score full mark for class activities.
SUMMARY
Moderate sleep without disorders is good enough for sound health.
CONCLUSION
Like in every other area of life, sleep should also be in moderation.
CLOSING PRAYER
Father, heal all your children who are experiencing sleep disorderliness.
ASSIGNMENT
Mention any five things that can happen during sleep (good or bad).