RCCG JUNIOR ZEAL (AGES: 13-19) TEACHER'S MANUAL SUNDAY 11TH OF JULY, 2021 LESSON FORTY FIVE (45)
TOPIC: REVISION 7
• Teacher to revise the previous lessons with the Teenagers.
• You can also ask them questions to ensure lessons have been well understood.
• Please, remember to tell your class to review the previous lessons during the week before the revision day.
SUMMARY OF LESSONS 40-44
LESSON FORTY (40)
TOPIC: BE AT PEACE WITH OTHERS
BIBLE TEXT: Matthew 5:6; Rom 14:12-19
MEMORY VERSE: Heb 12:14 "Follow peace with all men, and holiness, without which no man shall see the Lord".
HYMN FOR TODAY:
When peace like a river: Hymn 370
LESSON AIM: To let the teens know that God want them to be at peace with everyone.
CENTRAL TRUTH: It is God's intention that we be at peace with everyone we come across.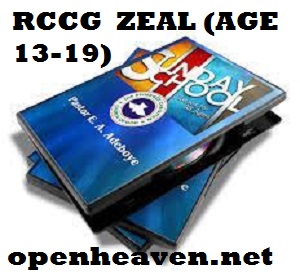 INTRODUCTION: Humans are different by nature, each with his/her own unique character and personality. Therefore, it is possible that
disagreements and opposite views arise. Despite this, God instructed us to make peace with others which means it is possible to live being at peace. This does not mean that people would not dislike or that you should be a
people pleaser. It just means that in situations where people expect war, choose peace.
STUDY GUIDE:
A. Why must we make peace with everyone?
1. It will please God – Rom 12:18
2. We ourselves will be at peace.
3. Unhindered access to the throne of grace.
4. It is a sign that you a re walking with God.
B. How to maintain peace with everyone;
1. Avoid malice.
2. Avoid associations of troublemakers.
3. Hate gossip.
4. Walk in integrity.
5. Do not dishonor people. Treat people exactly the way you want to be treated.
C. Rewards of peacemakers
1. He will be conducted in peace – 1 Cor 16:11
2. The God of peace will be with him 2 Cor. 13:11
3. They will see God – Heb 12:14
4. The fruit of righteousness is sown in peace -James 3:18
DISCUSSION: Share experiences when you chose peace when there was a legitimate reason to fight as well as the lessons you learnt.
INVITATION/APPLICATION: To be a peacemaker, you need to avoid being out with people who love disputes and quarrels. Make a decision to watch for those who enjoy causing division.
RCCG PUBLICATIONS
CONCLUSION: Only the Holy Spirit can give you strength to choose peace. Intensify your relationship with Him today, so you can be recognized as His Child.
LESSON FORTY ONE (41)
TOPIC: BE A SOUL WINNER
BIBLE TEXT: John 4:27-42
MEMORY VERSE: Prov 11:30 "The fruit of the
righteous is a tree of life; and he that winneth souls is wise.
HYMN FOR TODAY:
Must go, and empty handed: Hymn 262
LESSON AIM: To teach the teens of how to win souls and the reward
CENTRAL TRUTH: He that win souls is wise.
INTRODUCTION: Soul winning is the bringing back of a lost soul into the kingdom of God through the instrument of evangelism. The Bible says everyone was at some point lost – Eph 2:1 and we were going to die eternally – Rom 6:23. But God showed us mercy – Rom 5:8. Some of us have now received this mercy and are now born again. God wants us to go and win unsaved souls for Him – 2 Cor 5:18.
STUDY GUIDE
What happens when a soul is won?
1. That soul has been saved from death and hide a multitude of sins – James 5:20
2. There is great joy in heaven – Luke 15:10
3. God's wish that none should perish comes to pass – 2 Peter 3:9
4. The kingdom of God is populated. The more, the merrier in Heaven!
5. Devil loses – Col 1:13
6. The soul will in turn win others.
Blessings from soul winning:
1. They will be wiser – Daniel 12:3
2. The presence of God is guaranteed for the soul winner Matt 28:19-20
3. God will make you a ruler of many things – Matt 25:21-
4. They shall be fill with joy – Ps 126:5-6
INVITATION/ APPLICATION: Have you ever talked to anyone about Jesus? God is counting on you from today. The heart-cry of God is soul winning irrespective of your age, you can make a great harvest of souls for Jesus. Evangelism by words and actions show that you love God and you care about the gospel.
CONCLUSION: The Samaritan woman had an encounter with Jesus. She did not keep her experience to herself, instead she went about sharing her testimony with people and by this many more came to Jesus. What are you
doing with your salvation experience? Share with others!
LESSON FORTY TWO (42)
TOPIC: FELLOWSHIP WITH OTHER BRETHREN
BIBLE TEXT: Act 2:41-42
MEMORY VERSE: Heb 10:25 "Not forsaking the assembling of ourselves together, as the manner of some is; but exhorting one another: and so much the more, as ye see the day approaching"
HYMN FOR TODAY:
I Need Thee Every Hour: Hymn 356
LESSON AIM: To let them know that God want them to fellowship with others.
CENTRAL TRUTH: Christian fellowship is essential to spiritual growth.
INTRODUCTION: Fellowship is a friendly association, especially with people who share one's interests. God created man for fellowship. Genesis 3:8-9. When He created the first man, He said it is not good for the man to be alone and said "I will make a helper suitable for him". Many aspects of our spiritual lives depend on being together with other believers to encourage, teach, serve, and share life together – Acts 2:41-42, 46-47
STUDY GUIDE:
Why Is Fellowship So Important?
• For discipleship – Acts 2:41-42
• It helps believers to encourage one another -Prov 27:17
• It encourages good works – Heb 10:24-25
• Christian love can influence the unsaved toward faith in Jesus Christ – John 13:35
• It brings joy and freshening to the soul – Ps 133
INGREDIENTS OF GOOD FELLOWSHIP:
Those who fellowship together must share the same: belief, faith, need, conviction, purpose and hope. If you are part of a fellowship where all these are not common, then you are in the wrong place.
DISCUSSION: In what ways can we improve on our fellow-shipping together.
INVITATION/APPLICATION: It is not good for a believer to isolate himself from the gathering of the brethren, far from counsel and covering.
Come back home, be involved, grow together, do not isolate yourself.
CONCLUSION: God is pleased when He sees His children gather. There's nothing but goodness when believers gather. The grace to utilize fellowship of the brethren is given by the Holy Spirit.
LESSON FORTY THREE (43)
TOPIC: FORGIVENESS
BIBLE TEXT: Matthew 18:21-35
MEMORY VERSE: Eph 4:32 "And be ye kind one to another, tenderhearted, forgiving one another even as God for Christ's sake hath forgiven you"
HYMN FOR TODAY:
What can wash away my stain. Hymn 682
LESSON AIM: To teach them the act of forgiveness.
CENTRAL TRUTH: When we forgive each other, God will forgive us.
INTRODUCTION: Forgiveness is a conscious, deliberate decision to release
feelings of resentment or vengeance towards a person or group who has
harmed you, regardless of whether they actually deserve your forgiveness.
A good example is God deciding to blot out our transgressions knowing
fully well that we do not deserve His forgiveness.
STUDY GUIDE
A. How do you forgive?
1. Accept that God loves whoever offended you regardless (Eph 4:32)
– Some Christians always assume that God hates whoever they hate! This is untrue. He is Love!
2. Communication (Luke 17:3)- Make sure you do not hold grudges.
One major cause of offence is lack of communication.
3. Do not keep record of the wrong-doing (1 Cor 13:5).
4. Pray – it can be hard to let go and forgive, especially in situations where the wrong against you was life-altering. Ask the Holy Spirit to help you. As long as you do not forgive, whoever offended you
has power over you. Let go and let God have His way.
B. Benefits of forgiveness:
•You will be forgiven – Mark 11:25
•Removes pain and grudge from your heart.
•Helps us have better relationship with God becoming more like Jesus
•The power others have over us is destroyed and we are able to take hold of ourselves.
•Healthier relationships
•Improved mental health, less anxiety, stress and hostility
•Improved self-esteemn
C. Practical steps to forgiving someone:
a. Don't deny the feelings of anger, acknowledge it and make up your mind to do something about it.
b. Ask God for grace to forgive from your heart.
c. Tell yourself good reasons you need to forgive and move on with life.
d. Try not to think and talk about it too much. Seek counsel if you need to.
e. Talk it over with the person, tell him/her you have forgiven him. Your confessing it, seals it and puts the devil to shame.
INVITATION/ APPLICATION: Has someone deeply hurt you or offended
you? Decide today to forgive such person and let the love of God be spread in your heart. Do not give the devil any leeway.
CONCLUSION: Unforgiveness can lead to ill-health such as depression, stress etc. It can make room for illnesses such as cancer to grow in ones body etc. Don't allow unforgiveness in your heart.
LESSON FORTY FOUR (44)
TOPIC: BUILD GODLY RELATIONSHIP WITH OTHERS
Subscribe to Blog via Email
BIBLE TEXT: 1 Samuel 18:1-4
MEMORY VERSE: Eph 4:32 – And be ye kind one to another, tenderhearted, forgiving one another. even as God for Christ s sare hath forgiven you.
HYMN FOR TODAY:
Shine Jesus shine
LESSON AIM: To let the teens learn how to build godly relationship with others.
CENTRAL TRUTH: Godly relationships glorify God and demonstrate the reality of the gospel in our lives.
INTRODUCTION: "Who is in your circle? Faith was asked. She pondered and pondered until it became clear she had no names to mention.
Friendship is like a plant; it needs to be nurtured and well attended to.
Relationships can make you or mar you, therefore, choose wisely Godliness must cut across every relationship we are in. Be it with parents, siblings, friends, opposite sex and neighbors. Let people be happy being
around you.
STUDY GUIDE
A. How to build godly relationships:
From the following verses, highlight how to build good relationship5;
1. Forbearing one another – Eph 4:2
2. Speak the truth in love – Eph 4:15
3. Love others -1 Peter 4:8
4. Avoid corrupt communication – Eph 4:29
5. Avoid foolish talking, norjesting – Eph 5:4
6. By submitting to one another in the fear of God – Eph 5:211
Facts about building godly relationship:
a. Be rightly related to God: it is the God factor in any relations that makes it a godly one.
b. Learn to define every relationship you are in, relationships are in levels. For some you may need to set boundaries for yourself e.g
when relating to opposite sex.
c. Do not be in a relationship solely for your own advantage or where someone is taking advantage of you.
c. Communicate in a tactful and sensitive manner. Proverbs 15:1
e. You cannot be a friend to everybody, befriend people of like minds.
Key factors in a godly relationship:
The "you" actor:
•Honesty
•Love
•Loyalty
•Prayer and studying
•Selflessness.
The "friend" factor:
•Manner of communication: be careful of people who has something negative to say about everyone
•The voice of influence matters. Observe the voices that guides the person's life and their principles and convictions in life.
•Must be born again and filled with the Holy Spirit.
DISCUSSION: What is the most important key to building a Godly relationship?What is your view on friendship with the opposite sex?
INVITATION/ APPLICATION: Spend some time reflecting on how you extend friendship to others. Take note of the areas you need to change.
CONCLUSION: The Bible instructs you to show yourself friendly. This means that you need to be a friend that adds value to people's live.
RCCG JUNIOR ZEAL (AGES: 13-19) TEACHER'S MANUAL SUNDAY 11TH OF JULY, 2021 LESSON FORTY FIVE (45)