Words of Prophecy By E.A Adeboye July 2021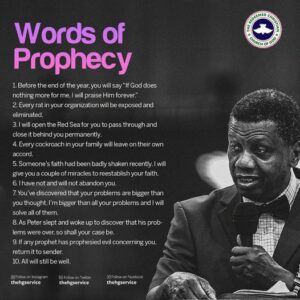 1. Before the end of the year, you will say "If God does nothing more for me, I will praise Him forever."
2. Every rat in your organization will be exposed and eliminated.
3. I will open the Red Sea for you to pass through and close it behind you permanently.
4. Every cockroach in your family will leave on their own accord.
5. Someone's faith had been badly shaken recently. I will give you a couple of miracles to reestablish your faith.
6. I have not and will not abandon you.
7. You've discovered that your problems are bigger than you thought. I'm bigger than all your problems and I will solve all of them.
8. As Peter slept and woke up to discover that his problems were over, so shall your case be.
9. If any prophet has prophesied evil concerning you, return it to sender.
10. All will still be well.
Subscribe to Blog via Email
RCCG PUBLICATIONS