Subscribe to Blog via Email
RCCG JUNIOR ZEAL FOR 2021/2022 (AGE 13-19) TEENS TEACHER'S MANUAL SUNDAY 31ST OF OCTOBER, 2021
LESSON NINE (09)
TOPIC: THE WAYS GOD BLESSES A MAN (SPIRITUAL BLESSING)
BIBLE TEXT: Ephesians 1:1-3
[1]Paul, an apostle of Jesus Christ by the will of God, to the saints which are at Ephesus, and to the faithful in Christ Jesus:
[2]Grace be to you, and peace, from God our Father, and from the Lord Jesus Christ.
[3]Blessed be the God and Father of our Lord Jesus Christ, who hath blessed us with all spiritual blessings in heavenly places in Christ:
MEMORY VERSE: EPHESIANS 1:3 " Blessed be the God and father of our Lord Jesus Christ who hath blessed us with all spiritual blessings in heavenly places in Christ."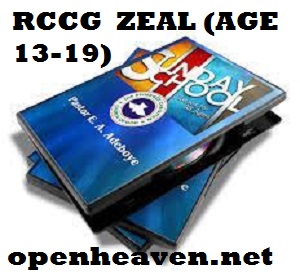 HYMN FOR TODAY: Holy, Holy, Holy, Lord God, Almighty.
LESSON AIM: At the end of the study, teenagers should know how God blesses a man spiritually.
CENTRAL TRUTH: All the blessings of God are spiritual because the spiritual controls the physical.
INTRODUCTION: Blessings are in categories. There are both physical and spiritual blessings. Both come from God through Jesus. Spiritual
blessings are those given to us by God. They are also any good and perfect gift given by God (James 1:17). Spiritual blessings are given by
God to those who are in Christ. We are going to highlight these spiritual blessings and their importance to believers. We all wish to be blessed by God – so much so that many people often pronounce blessings on others, such as: "God bless you".
STUDY GUIDE:
A. Importance/benefit ofspiritual blessings:
a. It gives an advantage in different areas of life [Daniel 5:12, Daniel 6:3]
b. It promotes prosperity.
c. It equips one in preaching the gospel.
d. Encourages believers in their walk with God [Colossians 2:2-3]
e. They are given to believers to help each other and for the sake of growing the church (1 Cor 12:7-11;1 Peter 4:10).
B. Differentiate and compare spiritual and physical blessings with biblical references and check the following:
Mark 10:29-30, James 1:17, Gen 1:28, John 6:27a
1. Spiritual blessings are eternal – Mark 10:29-30
2. Every good gift both physical and spiritual are from God – James 1:l
3. God commanded us to enjoy these blessings – Genesis 1:28
4. Spiritual blessings do not perish – John 6:27
C. What must you do to have access to these spiritual blessing
• Accept Jesus as your Lord and savior and all the gifts will be yours
• Live a life of obedience Eph 6:1-3
• Work for God by serving at home, school and church
• Pray always 1 Thess. 5:17
LIFE APPLICATION: Look through the beatitudes and see how you can shape your character in each of the beatitudes to see the divine blessings attached to them in your life e.g Blessed are the pure in heart for they shall see God – Matthew 5:8.
CONCLUSION: God is faithful in all things. He will bless you and take you to heaven if you remain faithful. Walk with Jesus daily. If we yield ourselves to Him, inviting His Spirit to come into our life, He will come. The more you yield, the more He fills. Invite Him to fill you afresh right now. Receive His presence and empowerment by faith.
INDIVIDUAL REFLECTION:
Ask them – What is God saying in today's lesson?
______________
How can they apply this to their lives?
______________
Let them put their prayer points here:
______________
ALL TODAY SUNDAY SCHOOL MANUAL
RCCG MESSAGES
RCCG APRIL 2021 HOLY COMMUNION SERVICE THEME: GOD BLESS YOU – PART 4 (BLESSED FRUITS) MINISTERING: PASTOR E.A ADEBOYE
RCCG MARCH 2021 DIVINE ENCOUNTER THEME: GOD BLESS YOU – PART 3 (I WILL LIFT UP MY EYES UNTO THE HILLS).