Subscribe to Blog via Email
RCCG LOWER JUNIOR ZEAL FOR 2021/2022 AGE 6-8 TEACHER'S MANUAL LESSON NINE (9) 31ST OF OCTOBER, 2021
TOPIC: WAYS GOD BLESSES A MAN (SPIRITUAL BLESSING)
BIBLE TEXT: 1 Samuel 3:1 -21
[1]And the child Samuel ministered unto the LORD before Eli. And the word of the LORD was precious in those days; there was no open vision.
[2]And it came to pass at that time, when Eli was laid down in his place, and his eyes began to wax dim, that he could not see;
[3]And ere the lamp of God went out in the temple of the LORD, where the ark of God was, and Samuel was laid down to sleep;
[4]That the LORD called Samuel: and he answered, Here am I.
[5]And he ran unto Eli, and said, Here am I; for thou calledst me. And he said, I called not; lie down again. And he went and lay down.
[6]And the LORD called yet again, Samuel. And Samuel arose and went to Eli, and said, Here am I; for thou didst call me. And he answered, I called not, my son; lie down again.
[7]Now Samuel did not yet know the LORD, neither was the word of the LORD yet revealed unto him.
[8]And the LORD called Samuel again the third time. And he arose and went to Eli, and said, Here am I; for thou didst call me. And Eli perceived that the LORD had called the child.
[9]Therefore Eli said unto Samuel, Go, lie down: and it shall be, if he call thee, that thou shalt say, Speak, LORD; for thy servant heareth. So Samuel went and lay down in his place.
[10]And the LORD came, and stood, and called as at other times, Samuel, Samuel. Then Samuel answered, Speak; for thy servant heareth.
[11]And the LORD said to Samuel, Behold, I will do a thing in Israel, at which both the ears of every one that heareth it shall tingle.
[12]In that day I will perform against Eli all things which I have spoken concerning his house: when I begin, I will also make an end.
[13]For I have told him that I will judge his house for ever for the iniquity which he knoweth; because his sons made themselves vile, and he restrained them not.
[14]And therefore I have sworn unto the house of Eli, that the iniquity of Eli's house shall not be purged with sacrifice nor offering for ever.
[15]And Samuel lay until the morning, and opened the doors of the house of the LORD. And Samuel feared to shew Eli the vision.
[16]Then Eli called Samuel, and said, Samuel, my son. And he answered, Here am I.
[17]And he said, What is the thing that the LORD hath said unto thee? I pray thee hide it not from me: God do so to thee, and more also, if thou hide any thing from me of all the things that he said unto thee.
[18]And Samuel told him every whit, and hid nothing from him. And he said, It is the LORD: let him do what seemeth him good.
[19]And Samuel grew, and the LORD was with him, and did let none of his words fall to the ground.
[20]And all Israel from Dan even to Beersheba knew that Samuel was established to be a prophet of the LORD.
[21]And the LORD appeared again in Shiloh: for the LORD revealed himself to Samuel in Shiloh by the word of the LORD.
MEMORY VERSE: Ephesians 1:3 "Blessed be the God and Father of our Lord Jesus Christ, who hath blessed us with all spiritual blessings in heavenly places in Christ:"
LESSON AIM: The children will know and listen to the voice of the Lord when He speaks to them through His word.
CHILD-RELATED TRUTH: God wants you to be blessed by listening to His word.
RCCG LOWER JUNIOR ZEAL FOR 2021/2022 AGE 6-8 TEACHER'S MANUAL LESSON NINE (9) 31ST OF OCTOBER, 2021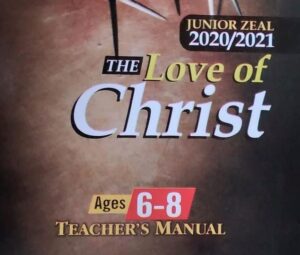 INTRODUCTION:
Samuel loved God and loved to help Eli, the High Priest, in the tabernacle of the Lord. Eli was old and almost blind so Samuel often
stayed near Eli in case he needed something. Eli was very proud of Samuel. Hophni and Phinehas were Eli's sons. That would mean that Hophni or Phinehas would be the next High Priest after Eli. There was one very big problem. The people of Israel did not like Hophni and Phinehas. They were mean and sometimes stole things. They did not love the Lord and they did not obey Him. They would not be good High Priests.
PROGRESSION OF EVENTS: 1 Samuel 3: 1-21
1. One night Samuel was lying down in the tabernacle. All of a sudden, Samuel heard a voice calling his name, he quickly got up and ran to Eli's room but Eli said, he did not call him.
2. When it happened three times, Eli understood that it was the Lord calling Samuel and told him to say speak Lord for he is listening.
3. When Samuel heard his name again, he told the Lord to speak for he is listening.
4. Now the Lord began to speak to Samuel and told him that Eli's sons would not be the next High Priests because they were too
wicked and did not love the Lord.
GOSPEL CONNECTION: Eli's sons were sinners because the things they did were not pleasing to the Lord. YOu and I were born sinners, but for God's love for you and me, He sent His Son Jesus to take the punishment
for our sins. Jesus died for your sins for you to be forgiven if you believe in Him. Samuel believed in the Lord and knew the difference between right and wrong (1 Corinthians 15:3-4).
5. Samuel lay back down until morning when it was time to open the tabernacle.
6. Samuel did not want to tell Eli what the Lord had said because he knew that Eli would feel bad.
7. But Eli told Samuel to tell him everything the Lord said and told him not to leave anything out, he was very sad but he knew that Samuel was telling the truth.
CLIMAX: After Eli died, Samuel became the High Priest. Samuel was also a Judge and a Prophet.
CONCLUSION: Samuel told many people how to love and obey God. The people of Israel always listened to Samuel because his words were wise and they were from the Lord.
CHALLENGE: What a huge burden for a young boy to carry. He must have dreaded Eli asking about the encounter. But Eli told Samuel to tell
him absolutely everything that the Lord had said. If you have already put your trust in Jesus as Lord and Saviour, He will bless you spiritually and always want you to listen to His voice because He may want to send a
message through you. God sends messages either through an audible voice, from the bible, or through dreams. Just listen and make sure it is the Lord speaking.
INVITATION: God can not send a message through you unless you trust in Jesus as Lord and Saviour. Call on Him today (Romans 10:13)
ALL TODAY SUNDAY SCHOOL MANUAL
RCCG MESSAGES
RCCG APRIL 2021 HOLY COMMUNION SERVICE THEME: GOD BLESS YOU – PART 4 (BLESSED FRUITS) MINISTERING: PASTOR E.A ADEBOYE
RCCG MARCH 2021 DIVINE ENCOUNTER THEME: GOD BLESS YOU – PART 3 (I WILL LIFT UP MY EYES UNTO THE HILLS).
DAILY DEVOTION:
SUNDAY: GENESIS 12:1-5
MONDAY: GENESIS 12:6-12
TUESDAY GENESIS 12:13-20
WEDNESDAY: GENESIS 13:1-7
THURSDAY: GENESIS 13:8-13
FRIDAY: GENESIS 13:14-18
SATURDAY: GENESIS 14:1-6