OPEN HEAVENS 2021 Saturday June 12
TOPIC: BE A GOOD UNDER-SHEPHERD
Memorise: Feed the flock of God which is among you, taking the oversight thereof, not by constraint, but willingly; not For filthy lucre, but of a ready mind; 1 Peter 5:2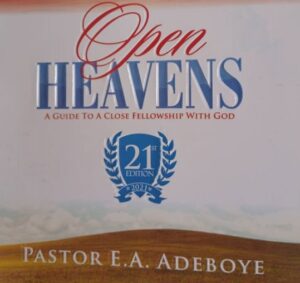 Read: Matthew 28:19-20
The situation in Jeremiahs time as seen in today's Bible reading closely reflects the true state of affairs of God's people. The Bible says that all these were written as examples For those who shall be alive at the end- times. The ongoing fulfilment of end-time prophecies is an indication that the end is near (Corinthians 10:11). In this end-time, many pastors and preachers are no longer building Precious stones on the Sure Foundation-Jesus Christ. Rather they are building rubble, that is, basing their sermons on modern ideologies in order to make Christianity acceptable to the 21st century generation. 1Peter 2:2 says:
As newborn babes, desire the sincere milk of the word, that ye may grow thereby Many modern-day pastors and ministers of the gospel are failing to live by Apostle Paul's instruction in 2 Timothy 4:2, 5: Preach the word; be instant in season, out of season reprove rebuke, exhort with all longsuffering and doctrine.. But watch thou in all things, endure afflictions, do the work of an evangelist, make full proof of thy ministry.
The Bible encourages ministers of the gospel against negligence in their service. Ezekiel 3:11 says: … go, get thee to them, and speak unto them, whether they will hear or whether they will forbear.. Ezekiel was also told not to consider their unfriendly countenance but rather give the word as he was asked to (Ezekiel 2:6).
As Christian parent, you need to take cognisance of days message for your family. Your home is the God- given flock you are to nurture in the fear of the Lord. followers however, also have the duty to crosscheck what they are being taught by their leaders, like the Berean Christians (Acts 17:11).
Are you a shepherd or a wolf? Think about this and may the Lord grant you understanding in Jesus' name.
Be a good under-shepherd, building your flock not on the rubble of modern ideologies but on the solid foundation of the word of God. Ensure that you study and teach the undiluted word of the Good Shepherd.
OPEN HEAVENS JUNE 12 2021 Hymn 6 Ho, My Comrades See The Signal
Subscribe to Blog via Email
Prayer Point: Pray for all genuine ministers around the world, that they will preach the gospel without fear or favour
Bible in one year: Ezra 1-2
RCCG THIS WEEK