RCCG SUNDAY SCHOOL TEACHER'S MANUAL LESSON FORTY-ONE SUNDAY 13TH JUNE 2021
TOPIC: THE CHRISTIAN MISSIONARY
SUNDAY SCHOOL HYMN
1. O Sunday School, on the Lord's day,
O how I love Thee well,
I am happy, it makes me glad
To rejoice at Thy birth.
2. O Sunday School, on the Lord's day,
Thy friend friendship suits me well,
Both young and will sing Thy song,
We long for Sunday School.
3. O Sunday School, on the Lord's day,
Christ was Thy first teacher,
The Holy Spirit, great teacher,
Does manifest in thee.
4. O Sunday School, on the Lord's day,
This testimony is sure,
That God, the Father Almighty,
Poured His blessing on Thee
5. O Sunday School, on the Lord's day,
Though the sun be so bright,
Or if the clouds be black with rain,
I'll be in Sunday School.
6. O Sunday School, on the Lord's day,
I rejoice to see Thee,
Will thou pass over me today?
Without my being blest?
OPENING PRAYER
My Father, please use me to take the message of the gospel to anywhere I go.
MEMORY VERSE: "And he said unto them, Go ye into all the world, and preach the gospel to every creature". — Mark 16:15
BIBLE PASSAGE: MATTHEW 28:19-20
Matthew:28.19
"Go therefore and make disciples of all the nations, baptizing them in the name of the Father and of the Son and of the Holy Spirit,
Matthew:28.20
"teaching them to observe all things that I have commanded you; and lo, I am with you always, [even] to the end of the age." Amen.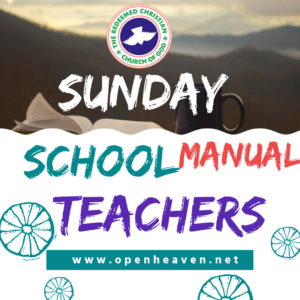 INTRODUCTION
Subscribe to Blog via Email
RCCG THIS WEEK
The business of missions includes the Almighty God, the Lord Jesus Christ, the Holy Spirit and the Church. Mission is a must and all real Christians should be interested.
TEXT REVIEW: MATTHEW 28:19-20
Teacher should identify the tri-podal mandate of the Believers as contained in Matthew 28:19-20.
i. …………………
ii. ………………….
iii. …………………..
iv. ………………………
v. …………………………..
LESSON OUTLINES
1. CHRISTIAN MISSIONS AND HOME SUPPORT
2.YOU CAN BE PERSONALLY INVOLVED
CHRISTIAN MISSIONS AND HOME SUPPORT
Question:
Who is a Christian missionary?
Answer:
The believer who is sent across geo-political and cultural boundaries to proclaim the gospel of our Lord Jesus Christ.
Question:
Who sent them?
Answer: The established Church of Christ from a geographical location.
Question:
Whose responsibility is It to take care of missionaries?
Answer:
The members of the home Church who sent the missionary abroad.
Question:
Why is it the responsibility of the home Church to take care of the missionaries?
Answer:
It is because the scripture says that believers (home or abroad) are co-labourers. Therefore, if one believer suffers, others must share in the pain. (1Corinthians 12:25-26; 1Corinthians 3:8-9).
Question:
What type of support can Christians at the home Church give the missionaries?
Answer:
i. Prayers support.
ii. Provision of physical materials necessities
Question:
Why are these supports necessary?
Answer:
i. To enable the missionaries concentrate on their primary assignment. (Matthew 6:20-21).
ii. To avoid distractions.
CLASS ACTIVITY 1
Mention any ten countries where The Redeemed Christian Church of God has missionaries.
YOU CAN BE PERSONALLY INVOLVED
Question:
What did the woman of Shunem and her husband do to support Elisha who was a missionary in their country?
Answer:
i. They provided a furnished apartment for him. (2Kings 4:9-11)
ii. They provided food (bread) for him. (2Kings 4:8-10).
Question:
What did the brethren from the Macedonian do to support the Apostle Paul on his missionary journey according to (2Corin. 11:9)?
Answer:
They supply the need of Apostle Paul. (2Corin. 11:9)
Question:
What did Philippians do to support Apostle Paul' missionary activities in Thessalonica according to (Philippians 4:16-18)?
Answer:
They sent provisions to meet his necessities
Question:
Would you say that the couple, Priscilla and Aquila, were relevant to Apostle Paul's activities? If yes, how according to (Romans 16:3-4).
Answer: Yes
i. They gave so much to support Paul and those that were with him in the journey
ii. They risk their lives for the missionaries (Living Bible Translation).
Question:
Can we do the missionary work by proxy?
Answer:
Yes. As much as we send our support regularly, we are part of the missionary work.
CLASS ACTIVITY 2
Students should mention at least one location or place or country where they would like to take the missionary work to and state the reason for their choice.
SUMMARY
Christian missionaries must be supported directly or by proxy
CONCLUSION
God is still calling today. Whosoever is willing should respond. You can decide to begin to support a missionary, at least.
CLOSING PRAYER
Father, help the home Church to support the missionaries
ASSIGNMENT
Mention five things that may discourage people from going into the mission field or becoming a missionary.