RCCG 2020/2021 ZEAL (AGE 13-19) TEENS TEACHER'S MANUAL SUNDAY 13TH OF JUNE 2021 LESSON (41)
TOPIC: BE A SOUL WINNER
BIBLE TEXT: John 4:27-42 (NKJV)
[27]And at this point His disciples came, and they marveled that He talked with a woman; yet no one said, "What do You seek?" or, "Why are You talking with her?"
[28]The woman then left her waterpot, went her way into the city, and said to the men,
[29]"Come, see a Man who told me all things that I ever did. Could this be the Christ?"
[30]Then they went out of the city and came to Him.
[31]In the meantime His disciples urged Him, saying, "Rabbi, eat."
[32]But He said to them, "I have food to eat of which you do not know."
[33]Therefore the disciples said to one another, "Has anyone brought Him anything to eat?"
[34]Jesus said to them, "My food is to do the will of Him who sent Me, and to finish His work.
[35]Do you not say, 'There are still four months and then comes the harvest'? Behold, I say to you, lift up your eyes and look at the fields, for they are already white for harvest!
[36]And he who reaps receives wages, and gathers fruit for eternal life, that both he who sows and he who reaps may rejoice together.
[37]For in this the saying is true: 'One sows and another reaps.'
[38]I sent you to reap that for which you have not labored; others have labored, and you have entered into their labors." The Savior of the World
[39]And many of the Samaritans of that city believed in Him because of the word of the woman who testified, "He told me all that I ever did."
[40]So when the Samaritans had come to Him, they urged Him to stay with them; and He stayed there two days.
[41]And many more believed because of His own word.
[42]Then they said to the woman, "Now we believe, not because of what you said, for we ourselves have heard Him and we know that this is indeed the Christ, the Savior of the world." Welcome at Galilee
MEMORY VERSE: Prov 11:30 "The fruit of the
righteous is a tree of life; and he that winneth souls is wise.
RCCG THIS WEEK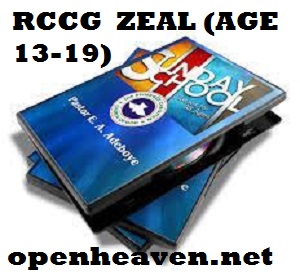 HYMN FOR TODAY:
Subscribe to Blog via Email
Must go, and empty handed: Hymn 262
LESSON AIM: To teach the teens of how to win souls and the reward
CENTRAL TRUTH: He that win souls is wise.
INTRODUCTION: Soul winning is the bringing back of a lost soul into the kingdom of God through the instrument of evangelism. The Bible says everyone was at some point lost – Eph 2:1 and we were going to die eternally – Rom 6:23. But God showed us mercy – Rom 5:8. Some of us have now received this mercy and are now born again. God wants us to go and win unsaved souls for Him – 2 Cor 5:18.
STUDY GUIDE
What happens when a soul is won?
1. That soul has been saved from death and hide a multitude of sins – James 5:20
2. There is great joy in heaven – Luke 15:10
3. God's wish that none should perish comes to pass – 2 Peter 3:9
4. The kingdom of God is populated. The more, the merrier in Heaven!
5. Devil loses – Col 1:13
6. The soul will in turn win others.
Blessings from soul winning:
1. They will be wiser – Daniel 12:3
2. The presence of God is guaranteed for the soul winner Matt 28:19-20
3. God will make you a ruler of many things – Matt 25:21-
4. They shall be fill with joy – Ps 126:5-6
INVITATION/ APPLICATION: Have you ever talked to anyone about Jesus? God is counting on you from today. The heart-cry of God is soul winning irrespective of your age, you can make a great harvest of souls for Jesus. Evangelism by words and actions show that you love God and you care about the gospel.
CONCLUSION: The Samaritan woman had an encounter with Jesus. She did not keep her experience to herself, instead she went about sharing her testimony with people and by this many more came to Jesus. What are you
doing with your salvation experience? Share with others!
ACTIVITY:
• What is God saying in the text?
• How can l apply this to my life?
MY PRAYER POINT FOR THE LESSON:
My Father, please make me an addicted soul winner in Jesus name.