Subscribe to Blog via Email
RCCG JUNIOR ZEAL (AGES: 9-12) TEACHER'S MANUAL SUNDAY 13TH OF JUNE 2021 LESSON FORTY ONE (41)
TOPIC: BE A SOUL WINNER
BIBLE TEXT: John 4:27-42 (NKJV)
[27]And at this point His disciples came, and they marveled that He talked with a woman; yet no one said, "What do You seek?" or, "Why are You talking with her?"
[28]The woman then left her waterpot, went her way into the city, and said to the men,
[29]"Come, see a Man who told me all things that I ever did. Could this be the Christ?"
[30]Then they went out of the city and came to Him.
[31]In the meantime His disciples urged Him, saying, "Rabbi, eat."
[32]But He said to them, "I have food to eat of which you do not know."
[33]Therefore the disciples said to one another, "Has anyone brought Him anything to eat?"
[34]Jesus said to them, "My food is to do the will of Him who sent Me, and to finish His work.
[35]Do you not say, 'There are still four months and then comes the harvest'? Behold, I say to you, lift up your eyes and look at the fields, for they are already white for harvest!
[36]And he who reaps receives wages, and gathers fruit for eternal life, that both he who sows and he who reaps may rejoice together.
[37]For in this the saying is true: 'One sows and another reaps.'
[38]I sent you to reap that for which you have not labored; others have labored, and you have entered into their labors." The Savior of the World
[39]And many of the Samaritans of that city believed in Him because of the word of the woman who testified, "He told me all that I ever did."
[40]So when the Samaritans had come to Him, they urged Him to stay with them; and He stayed there two days.
[41]And many more believed because of His own word.
[42]Then they said to the woman, "Now we believe, not because of what you said, for we ourselves have heard Him and we know that this is indeed the Christ, the Savior of the world." Welcome at Galilee
MEMORY VERSE Proverbs 11:30 The fruit of righteousness is a tree of life, and he that winneth soul is wise"
LESSON AIM To let the children know they are saved to share the good news to
others
CENTRAL TRUTH: Soul winning is the heart beat of God.
RCCG THIS WEEK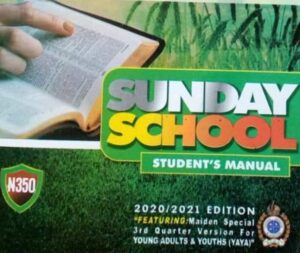 INTRODUCTION: Jesus was a soul winner. When he came across the woman of Samaria at the well, He shared the good news with her and she in tum went to the town and called people to Christ. The Samaritans said to the woman, we no longer believe just because of what you said, now we have heard for ourselves, and we know that this man really is the Saviour of the worid.
STUDY GUIDE:
A. WHAT IS WITNESSING?
1. Telling others about the love of God. John 3:16
2. Assuring them that God has solution to their sinful nature. Romans 6:23
3. Telling others how Jesus gave His life blood for their sins to be forgiven. Hebrews 9:22
4. Assuring others of their salvation. Hebrews 13:5-6
B. WHY WE NEED TO WITNESS
1. To share what we believe in as believers. Acts 4:20
2. To save souls from death. James 5:20
3. If we don't witness, we will be condemned. 1 Corinthians 9:16
C. QUALIFICATION TO BE A SOUL WINNER
1. Be born again – John 3:3
2. Be holy – 2 Timothy 2:21
3. Be empowered (Holy Spirit baptism) – Acts 1:8
4. Be consecrated – Exodus 30:30, 32.29
5. Be committed – Acts 26:19
6. Be humble – Acts 20:19
7. Have faith in God – Acts 6:5-8
8. Have a good knowledge of the scriptures – Act 18:24; 2 Timothy 3:15
9. Be prayerful – Acts 20:31
10. Ask God for wisdom – James 1:5
11. Be tolerant – 1 Corinthians 13:5
12. Be loving and passionate (Burden for the lost) – Romans 14.
D. BENEFITS OF SOUL WINNERS
1. Divine immunity against sickness – Exodus 23:25
2. Divine provision – Psalm 23:1
3. Crown of rejoicing – 1Thessalonians 2:19
4. Answered prayer – John 15:16
5. Divine Beautification – Nahum 1:15a, Daniel 12:3
6. Reward in heaven – Matthew 19:27-28
7. Divine presence – Psalm 16:11
CONCLUSION: Every soul is precious to God.
Open Heavens Daily Devotional
guide was written by
Pastor E.A. Adeboye
, the General Overseer of the Redeemed Christian Church of God, one of the largest evangelical church in the world and also the President of Christ the Redeemer's Ministries.
The Open Heavens devotional
application is available across all mobile platforms and operating systems: iOS, Android, Blackberry, Nokia, Windows Mobile and PC.
INVITATION: To be a soul winner you must be born again.
ACTIVITY: Mention 5(five) examples of soul winners in the Bible.
LIFE APPLICATION: You are to go and preach the good news of our Lord and Saviour Jesus Christ by following the footsteps of Christ. As a witness of Jesus Christ, your life is a key part of soul winning. Be a new creature then go ahead
and win souls. He that wins a soul is wise.
DAILY DEVOTIONAL
SUNDAY: ISAIAH 28:16-22
MONDAY: ISAIAH 28:23-29
TUESDAY: ISAIAH 29:1-8
WEDNESDAY: ISAIAH 29:9-16
THURSDAY: ISAIAH 29:17-24
FRIDAY:ISAIAH 30:1-7
SATURDAY: ISAIAH 30: 8-17
RCCG JUNIOR ZEAL (AGES: 9-12) TEACHER'S MANUAL SUNDAY 13TH OF JUNE 2021 LESSON FORTY ONE (41)