RCCG JUNIOR ZEAL (AGE 4-5) TEACHER'S MANUAL SUNDAY 13TH OF JUNE 2021 LESSON FORTY ONE (41)
TOPIC: BE A SOUL WINNER
BIBLE TEXT: Mark 16:15-18, Matthew 28.18-20. Corinthians 3:1-6
Mark 16:15-18
[15]And He said to them, "Go into all the world and preach the gospel to every creature.
[16]He who believes and is baptized will be saved; but he who does not believe will be condemned.
[17]And these signs will follow those who believe: In My name they will cast out demons; they will speak with new tongues;
[18]they will take up serpents; and if they drink anything deadly, it will by no means hurt them; they will lay hands on the sick, and they will recover." Christ Ascends to God's Right Hand
Matthew 28:18-20
[18]And Jesus came and spoke to them, saying, "All authority has been given to Me in heaven and on earth.
[19]Go therefore and make disciples of all the nations, baptizing them in the name of the Father and of the Son and of the Holy Spirit,
[20]teaching them to observe all things that I have commanded you; and lo, I am with you always, even to the end of the age." Amen.
MEMORY VERSE: Matthew 24:14 "And this gospel of the kingdom shall be preached in all the world for a witness unto nations and then shall come the end come.
LESSON AIM: The saved child will witness
CHILD RELATED TRUTH: If you are child of God, God wants you win souls.
RCCG THIS WEEK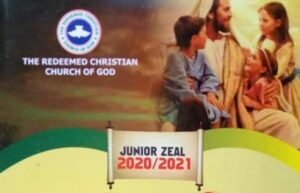 INTRODUCTION: To be a soul winner is to tell others about Jesus. It is to witness about what Jesus did for man. I just
Subscribe to Blog via Email
won a prize! If this give
you excitement, won't you tell others? You will surely want to tell others your good news. If you believed in the Lord Jesus as your Saviour from sin, then you have the best good news ever! God wants you to tell that good news to others. Be a soul winner!
PROGRESSION OF EVENTS:
A. Who is a witness?
A witness tells others what he/she knows and experienced about Jesus Christ and what it means to personally trust in Him.
B. Why witness?
You should witness because many people are lost in sin, they do not know about the wonderful things Christ did for them. God wants the good news about the kingdom to be preached throughout the whole world. It is God's commandment for you and I to tell everyone about the Good News.
C. Who can be a soul winner?
Those who are saved. You must have accepted and trusted in Jesus to save you before you can be witness for Jesus Acts 16:31. You cannot tell others to believe in Jesus and be saved
from the consequences of their sin, if you have not done so.
D. How can you witness? As a witness of Christ, your life is a key part of your soul winning. You are a new creature: you should show others that you have been saved from sin. Matthew 5:16. Have you heard the Good news? The Good
news is that God loved the world so much, the people living in the darkness of sin; do you know what sin is? It is wanting to do wrong things. Sin separates you from God who created and loved you, because God is Holy and He will punish sin. Rom 6:23. God does not want you to be punished, so He gave Jesus Christ His sinless son to come and take away our punishment by dying on the cross. Colossians 1:14. Jesus died, He was buried, but came back to life again. He wants you to turn away from your sins by believing in Him as your
Saviour.
E. Jesus gave a commandment to you and I in Mark 16:15 "Go into the world and preach the gospel to all creatures". If you have been saved you are not to keep it to yourself, you are saved, so that you can tell others. Every child of God is saved to witness to others. Whosoever believe and is baptized will be saved, whosoever does not believe will be condemned. vs. 16.
CLIMAX: Signs shall follow those that believe vs.17-18.
CONCLUSION: All power and authorities has been given to Jesus. Matthew 28:18-20
CHALLENGE: As a child of God, you have received a commandment to go and win souls. Start from your family, neighborhood, town, village and anywhere you go. Keep busy
winning souls, time is short and souls are perishing.
INVITATION: Be saved to save others, believe in Jesus as your Saviour and then you can tell others too. Acts 16:31
DAILY DEVOTIONAL:
SUNDAY: LUKE 18:34-36
MONDAY: LUKE 18:37-39
TUESDAY: LUKE 18:40-43
WEDNESDAY: LUKE 19:1-3
THURSDAY: LUKE 19:4-6
FRIDAY: LUKE 19:7-9
SATURDAY: LUKE 19:10-12